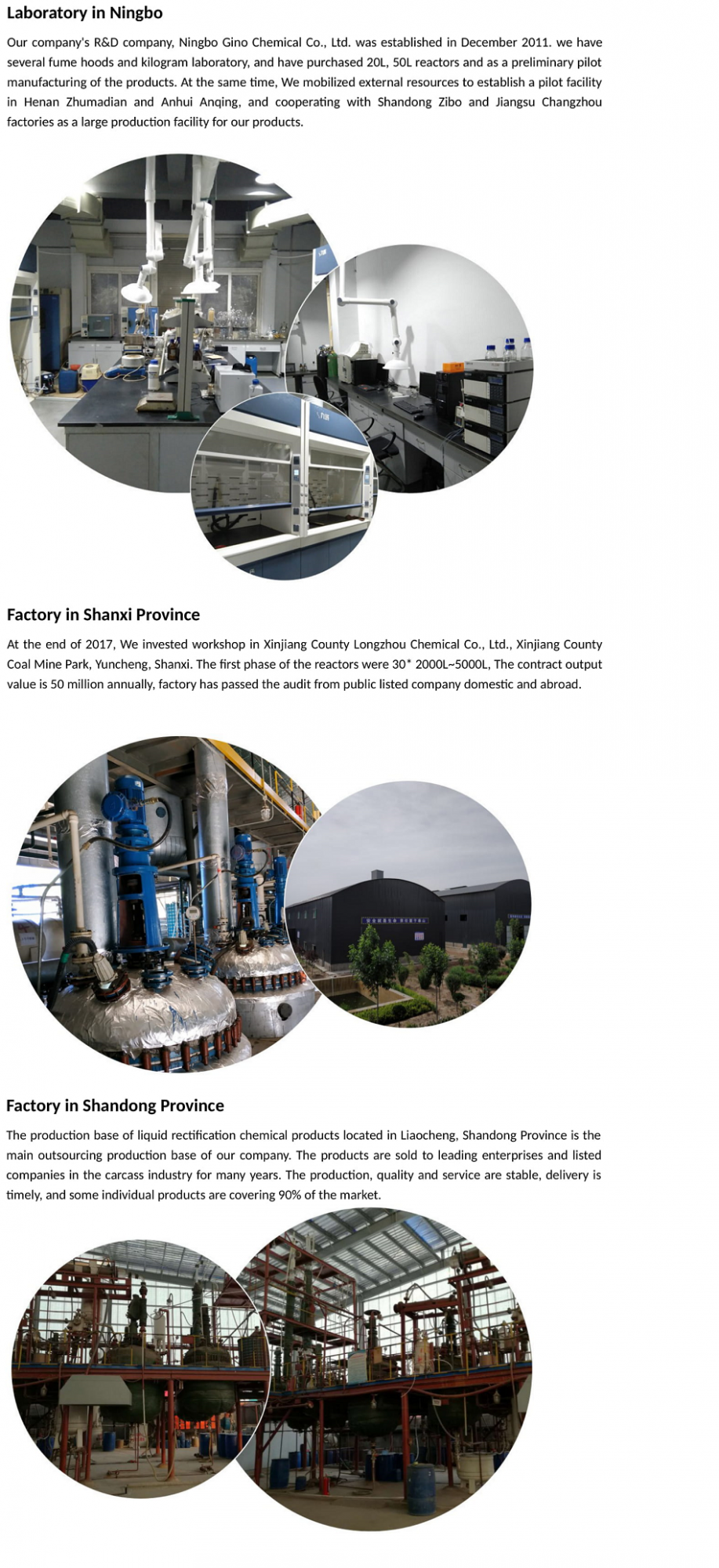 Product Name: Silicic acid ethyl ester
Other Name: Ethyl polysilicate;Ethylpolysilikat;Ethyl silicate
CAS No: 11099-06-2
MF: C2H6O3Si
MW: 106.15300
Density: 1.04-1.07 g/cm3
Boiling point: 334.1ºC at 760 mmHg
Melting point: -77ºC
Flash point: 45ºC
UN Number: UN1292
UN Proper Shipping Name: TETRAETHYL SILICAT
Transport hazard class: 3.2
Packing group: III
Specification
Appearance: Colorless transparent liquid
Assay: ≥99.0%
Application
Ethyl silicate32 ( also called orthosilicic acid ester) most commonly used as starting materials for sol-gel.
Polysilicic acidesters are condensation products obtained by incomplete hydrolysis or orthosilicic acid esters.
They are also be used as starting materials for the sol-gel process.
Typical application:
Be hydrolyzed to form silicon dioxide (silica).
Crosslinkers in silicone rubber systems.
Drying agents in sealing compositions.
Inorganic binder for refractory fillers and pigments.
Coating material for pigments, fibers and other surfaces.
Chemical intermediate.
Package: 210L Iron Drum: 200kg/drum or 1000L IBC Container: 950kg/container, can also be designed according to customer requirements.
Storage: Store in cool place. Keep container tightly closed in a dry and well-ventilated place.
We are supplier of Silicic Acid Ethyl Ester CAS:11099-06-2,We offer custom synthesis of various chemical compounds like Ethyl silicate CAS:11099-06-2 and custom manufacturing of Ethylpolysilikat, please feel free to contact us for your demand of Ethyl polysilicate,suppose you are looking for Silicic Acid Ethyl Ester factory, produer or manufacturer.
Since the establishment of the company, it has established good and stable cooperative relations with many domestic and foreign pharmaceutical companies.The products are exported to Europe, America, Middle East, India, Southeast Asia and other countries and regions, and have been recognized and highly praised by the market and customers.The production base is mainly located in Liaocheng City, Shandong Province, and Yuncheng City, Shanxi Province. It can complete the pilot test and enlarge the production work of various types of reactionsWe listen carefully to our customers' opinions and needs, and provide timely and effective feedback, and continue to improve and improve, ready to accept greater challengesWe a fine chemical company specialising in the manufacture of products for pharmaceutical and health care, flavour/fragrance, personal care, and other specialised chemical and industrial applications.