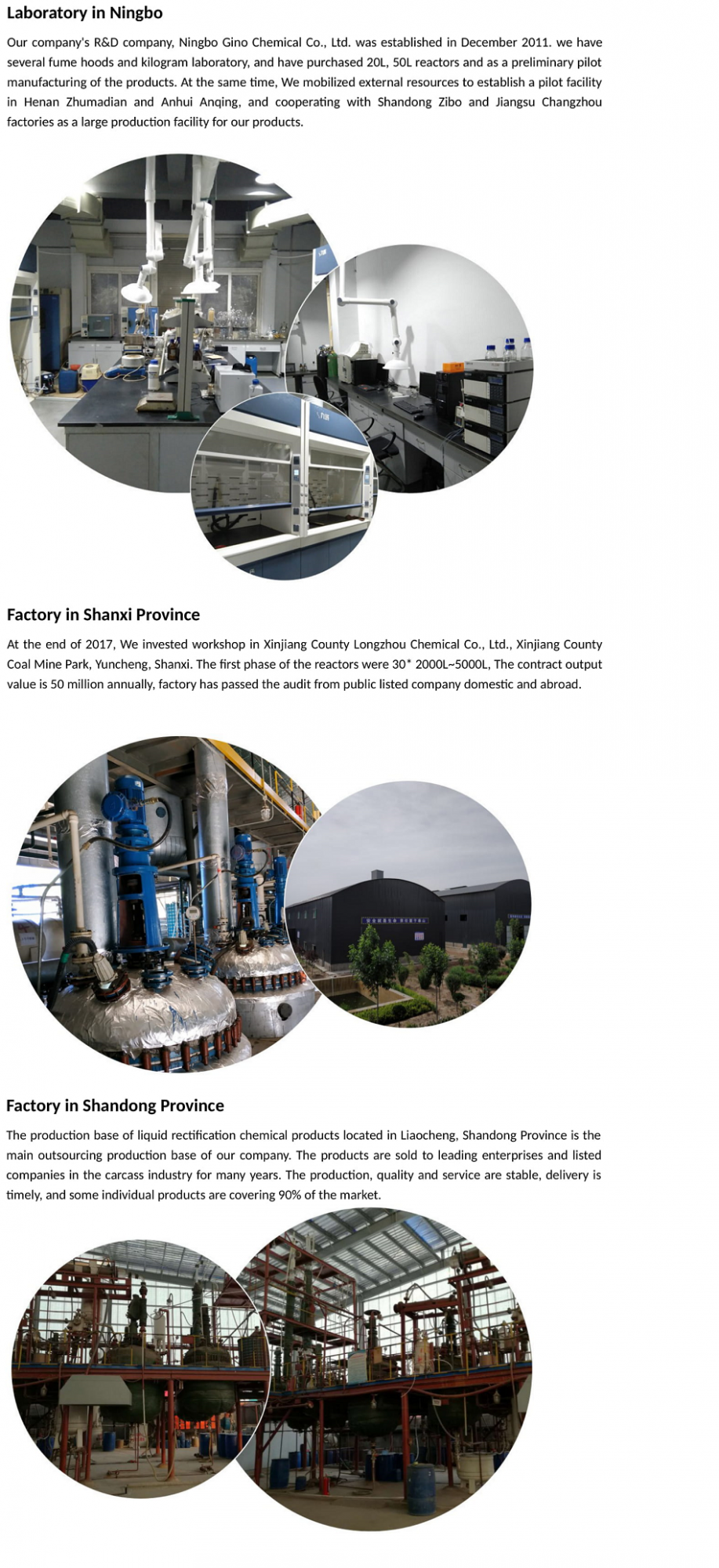 Chemical Name: oxane
CAS.NO: 142-68-7
Molecular Formula: C5H10O
Molecular Weight: 86.13230
Synonyms:
Tetrahydropyran
2H-Pyran, tetrahydro-
Tetarhydropyran
Tetrahydro-2H-pyran
Etrahydropyran
4,5-dihydro-2H-pyran
1,5-EPOXYPENTANE
tetrahydro-4H-pyran
OXACYCLOHEXANE
tetrahydropyrane
THP
4-tetrahydropyran
tetrahydro-2h-pyra
Pentamethylene Oxide
Physical and Chemical Properties:
Density: 0.881 g / mL at 25 ° C (lit.)
Boiling point: 88 ° C (lit.)
Melting point: −45 ° C (lit.)
Flash point: 4 ° F
Refractive index: n20 / D 1.42 (lit.)
Specification:
Appearance: Colorless Liquid
Purity:≥99.0%
Water: 0.2% max
Dihydropyran: 1.0% max
Packing:25 kg/drum, can also be packaged according to customer requirements
Storage:The storeroom is ventilated and dry at low temperature, and it is not easy to store for a long time to prevent the generation of peroxides.
Application:
Tetrahydropyran is a useful synthetic intermediate. Tetrahydropyranyl (THP-) ethers derived from the reaction of alcohols and dihydropyran are common intermediates in organic synthesis. In organic synthesis, the 2-tetrahydropyranyl group is used as a protecting group for alcohols.
We are supplier of oxane CAS:142-68-7,We offer custom synthesis of various chemical compounds like Pentamethylene Oxide CAS:142-68-7 and custom manufacturing of Tetrahydro-2H-pyran, please feel free to contact us for your demand of tetrahydropyrane,suppose you are looking for tetrahydro-2h-pyra factory, producer or manufacturer.
We are the premier choice for all your chemical needs, we offer products with the tightest specifications in the industry to make your work easier.Our unique, open innovation partnerships have led to the development of creative strategies and new technologies, giving our customers a distinct market advantage. We build business by creating the best performance chemicals through innovation and collaboration with our partners.With an international vision, rich management experience, professional R & D team and integrity and rigorous professionalism, we are committed to providing customers with the highest quality products and services.Scope of services: compound custom synthesis, chemical custom synthesis, peptide custom synthesis, protein synthesis, pharmaceutical intermediate custom synthesis, generic synthesis, chemical custom synthesis CRO, etc.Founded in 2007, our company is a high-tech pharmaceutical and pesticide chemical company integrating R&D, production and sales.
Related Products:
3,4,5-Trifluoroaniline CAS:163733-96-8
|
N-(5-Chloropyridin-2-yl)-5-methoxy-2-nitrobenzamide
|
Ácido [4- (4-etilfenil) fenil] borónico CAS:153035-62-2