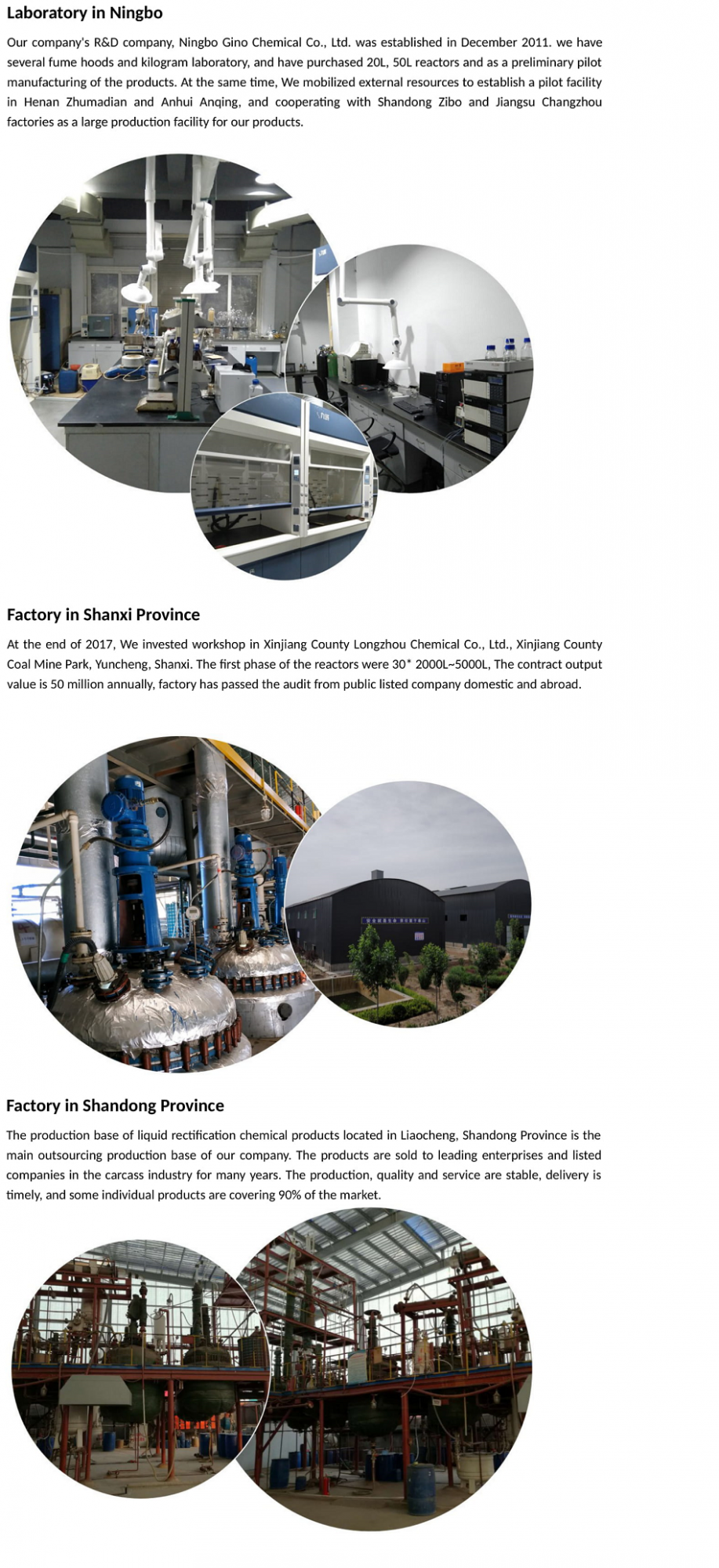 Chemical Name:trimethoxy(2-methylpropyl)silane
CAS.NO:18395-30-7
Synonyms:iso-Butyltrimethoxysilan; i-butyltrimethoxysilane;
Molecular Formula:C7H18O3Si
Molecular Weight:178.30200
Physical and Chemical Properties:
Density:0.93;
Boiling point:154oC;
Flash point:42oC;
Index of Refraction:1.396;
Specification:
Appearance:Colorless clear liquid
Purity(GC):≥97.0%
Packing:180 kg/drum, can also be packaged according to customer requirements
Storage:Store in a cool, ventilated place
Application:It can be used to render a wide range of surfaces and materials water repellent(e.g. construction materials, filers), especially concrete and reinforced concrete.
It should be diluted in solvents such as alcohols, Chlorinated solvents, aliphatic solvents, and low molecular weight cyclic polydimethylsiloxane.
Blends of the solvents can also be used. The evaporation rate of the diluted material can be modified depending on the type and concentration of the solvent. Select the proper solvent for your application, as some silane/solvent blends may darken the surface.
It can be used as a surface modifier to generate hydrophobicity and to increase compatitbility to organic non polar matrices.
It can be used in the production of silane crosslinking formulations.
It can be used as a component for the manufacture of Ziegler-Natta Catalysts.
We are supplier of trimethoxy(2-methylpropyl)silane CAS:18395-30-7,We offer custom synthesis of various chemical compounds like i-butyltrimethoxysilane CAS:18395-30-7 and custom manufacturing of iso-Butyltrimethoxysilan, please feel free to contact us for your demand of i-butyltrimethoxysilane,suppose you are looking for trimethoxy(2-methylpropyl)silane factory, produer or manufacturer.
The production base is mainly located in Liaocheng City, Shandong Province, and Yuncheng City, Shanxi Province. It can complete the pilot test and enlarge the production work of various types of reactionsEveryday our chemists and engineers are working with corporations, universities and forward-thinking organizations to pioneer new technologies and innovative approaches through advanced materials.We a fine chemical company specialising in the manufacture of products for pharmaceutical and health care, flavour/fragrance, personal care, and other specialised chemical and industrial applications.We provide one-stop services for the development, development and production of various organic chemicals as well as special compounds and pharmaceutical intermediates.Multiple grades of products, including USP, NF, JP, EP, ACS, FCC, Micro, Food, Reagent, HPCL, LC/MS, Photres, Cosmetic....