Fmoc-D-thiazolidine-4-carboxylic acid CAS:198545-89-0
| | |
| --- | --- |
| Structural Formula | |
| Product Name | Fmoc-D-thiazolidine-4-carboxylic acid |
| Synonym | Fmoc-D-thiazolidine-4-carboxylic acid;(4S)-3,4-Thiazolidinedicarboxylic acid 3-(9H-fluoren-9-ylmethyl) ester;(S)-N-alpha-(9-Fluorenylmethyloxycarbonyl)-thiazolidine-4-carboxylic acid;Fmoc-D-thiazolidine-4-carboxylic acid |
| CAS No. | 198545-89-0 |
| Molecular Weight | See details |
| Specifications | Upon request |
| Packing | Sea or Airworthy packing |
| Material Safety Data Sheet | Upon request |
| Availability | Please visit www.nbinno.com for our official company website or sending email to info@nbinno.com for more information. |
Chemical Name: Fmoc-D-thiazolidine-4-carboxylic acid
CAS.NO: 198545-89-0
Molecular Formula:C19H17NO4S
Molecular Weight: 355.40800
Synonyms:
(S)-N-alpha-(9-Fluorenylmethyloxycarbonyl)-thiazolidine-4-carboxylic acid
Fmoc-D-Thz-OH
(4S)-3,4-Thiazolidinedicarboxylic acid 3-(9H-fluoren-9-ylmethyl) ester
Physical and Chemical Properties:
Density: 1.402±0.06 g/cm3
Boiling point: /
Flash point: /
Refractive index: /
Specification:
Appearance: White Crystalline Powder
Purity:≥98%
Packing:25 kg/drum, can also be packaged according to customer requirements
Storage:Keep the container tightly closed, put it in a tight dispenser, and store in a cool, dry place.
Application:pharmaceutical intermediates.
We are supplier of Fmoc-D-thiazolidine-4-carboxylic acid CAS:198545-89-0,We offer custom synthesis of various chemical compounds like (4S)-3,4-Thiazolidinedicarboxylic acid 3-(9H-fluoren-9-ylmethyl) ester CAS:198545-89-0 and custom manufacturing of Fmoc-D-thiazolidine-4-carboxylic acid, please feel free to contact us for your demand of (S)-N-alpha-(9-Fluorenylmethyloxycarbonyl)-thiazolidine-4-carboxylic acid,suppose you are looking for Fmoc-D-thiazolidine-4-carboxylic acid factory, producer or manufacturer.
We are specialists in chiral chemistry using both chemocatalysis and biocatalysis technologies, but also have practical operating experience over a wide range of modern synthetic reactions.Strict quality control platform for strict quality identification of synthetic products.We are the premier choice for all your chemical needs, we offer products with the tightest specifications in the industry to make your work easier.We offer a wide range of custom synthesis and production services for pharmaceutical intermediates, reference compounds and new reagents for pharmaceutical companies, pharmaceutical biotech companies, universities and research institutions.Since the establishment of the company, it has established good and stable cooperative relations with many domestic and foreign pharmaceutical companies.
Related Products:
Hexafluorofosfato de benzotriazol-1-iloxitris (dimetilamino) fosfonio CAS:56602-33-6
|
6-ethynyl-4,4-dimethyl-2,3-dihydrothiochromene CAS:118292-06-1
|
5-Bromo-2-(2-methyl-2H-tetrazol-5-yl)pyridine CAS:380380-64-3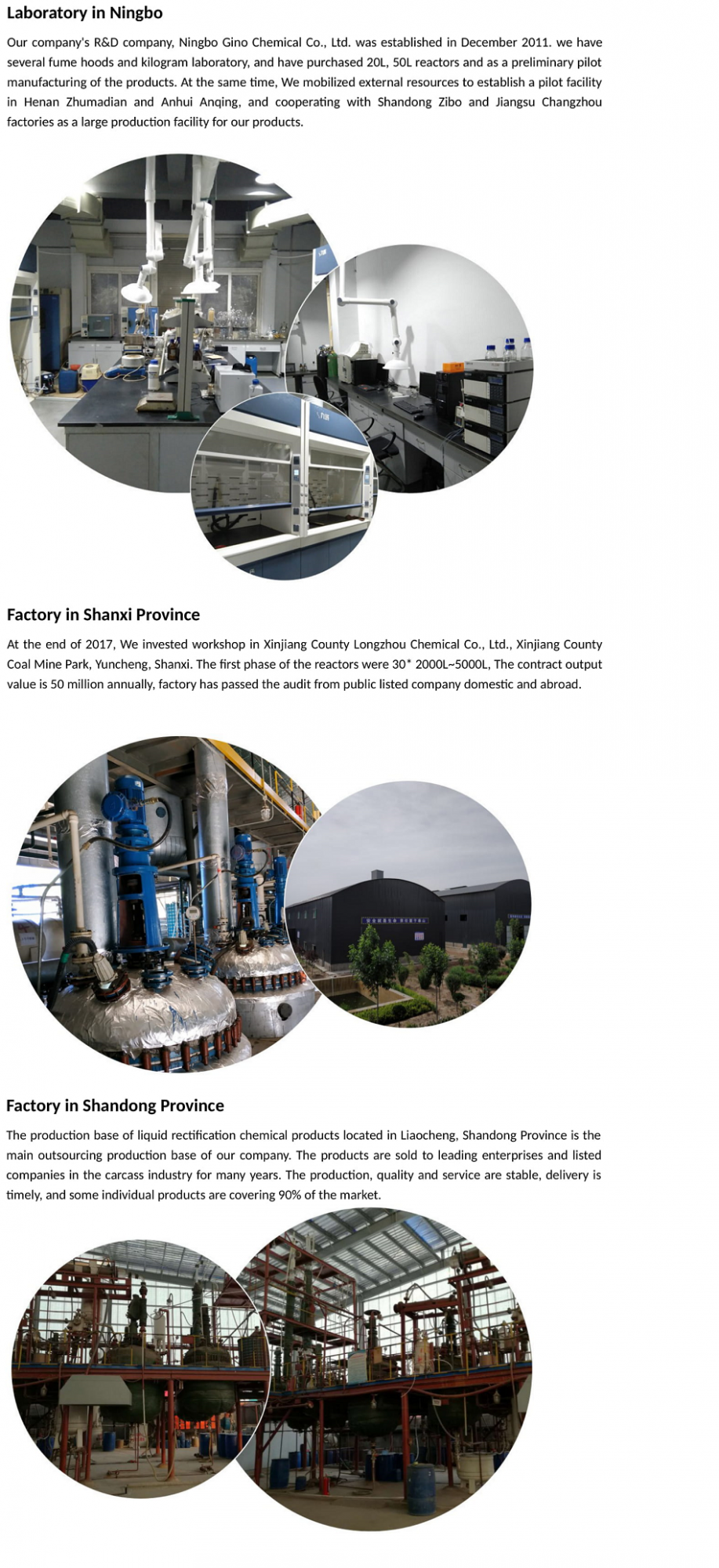 Experienced Reaction

Alkylation

Polymerization

Diazotization

Neutrallzation

Sulfonation

Decompose

Nitration

Elimination

Esterification

Addition

Chlorination

Substitution

Dehydrogenation

Reduction

Hydrogenation

Oxidation
Strong Products
Contact us:

NINGBO INNO PHARMCHEM CO.,LTD.

Add: 6F-5,No.163 Ruiqing Rd.,Ningbo Zhejiang 315000 China

Tel: 86-574-87319282 |

Fax: 86-574-27912196

E-mail: cdmo@nbinno.com