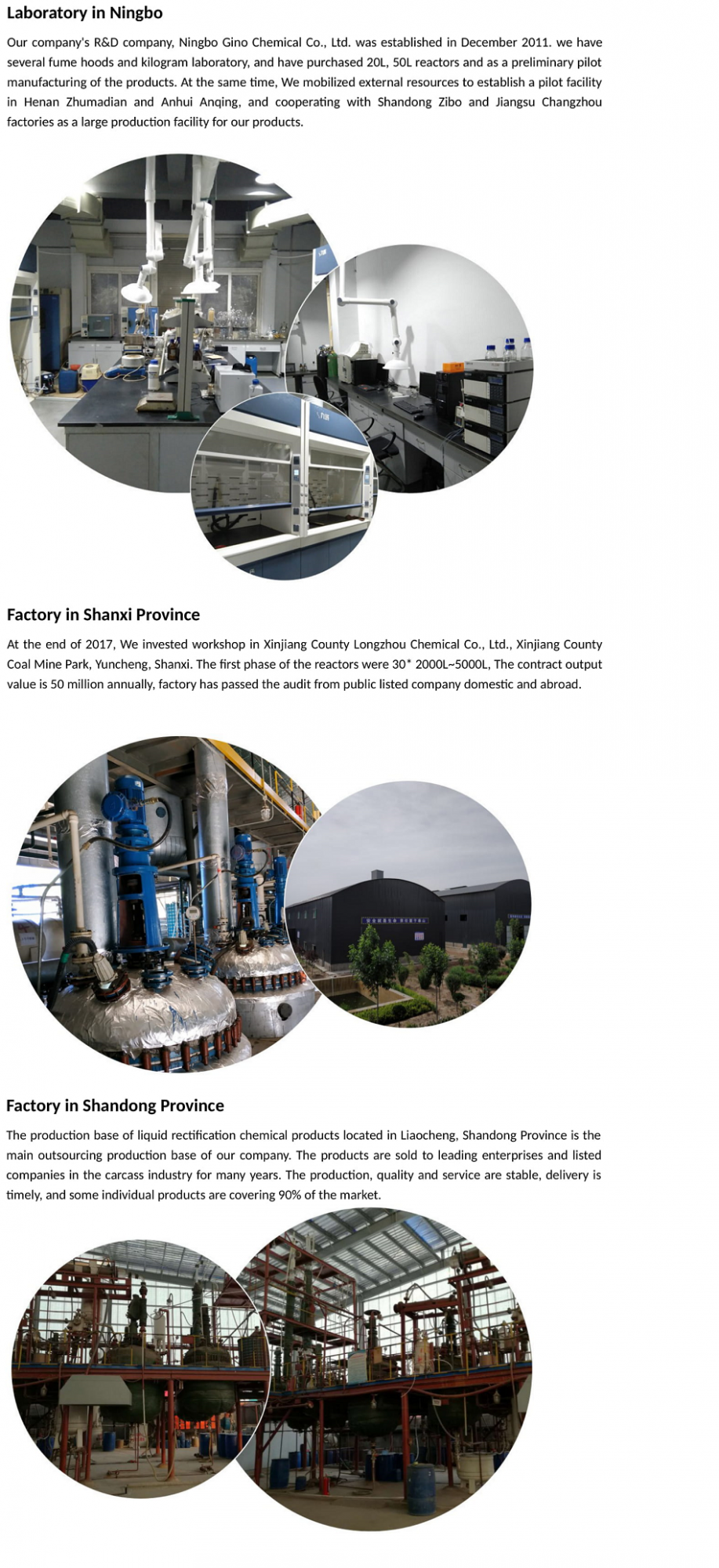 Chemical Name: (S)-(+)-2-Phenylglycinol
CAS.NO: 20989-17-7
Molecular Formula:C8H11NO
Molecular Weight:137.17900
Synonyms:
Benzeneethanol, β-amino-, (βS)-
(S)-2-Amino-1-phenylethanol
H-PHENYLGLYCINOL
(2S)-Phenylglycinol
(2S)-2-amino-2-phenyl-1-ethanol
Benzeneethanol, β-amino-, (S)-
EINECS 260-287-5
H-PHG-OL
L-2-PHENYLGLYCINOL
(S)-Phenylglycinol
(S)-2-Phenylglycinol
(S)-2-hydroxy-1-phenylethylamine
(S)-2-Amino-2-phenylethanol
(S)-(+)-2-Amino-2-phenylethanol
(S)-(+)-2-Phenylglycinol
L-Phenylglycinol
PHENYLGLYCINOL(L-)
L-Plenylglycinol
(2S)-2-Amino-2-phenylethanol
L-(+)-α-Phenylglycinol
(S)-1-phenyl-2-hydroxyethylamine
H-L-PHG-OL
Physical and Chemical Properties:
Density: 1.104g / cm3
Boiling point: 261ºC at 760 mmHg
Melting point: 76-79 ° C
Flash point: 125.3ºC
Refractive index: 1.572
Specification:
Appearance: White crystals powder
Purity:≥99%
Loss on drying:≤0.5%
Single impurity:≤0.5%
Total impurity:≤1.0%
Packing:25 kg/drum, can also be packaged according to customer requirements
Storage:Store at 0-5ºC.Keep the container tightly closed, put it in a tight dispenser, and store in a cool, dry place.
Application:A chiral arylalkylamine used as organocatalysts. Applicationd in the synthesis and chiral recognition properties of novel fluorescent chemosensors for amino acid.
We are supplier of (S)-(+)-2-Phenylglycinol CAS:20989-17-7,We offer custom synthesis of various chemical compounds like H-L-PHG-OL CAS:20989-17-7 and custom manufacturing of L-Plenylglycinol, please feel free to contact us for your demand of (S)-(+)-2-Amino-2-phenylethanol,suppose you are looking for (S)-(+)-2-Phenylglycinol factory, producer or manufacturer.
With complete organizational structure and main positioning and high-end product structure design, R&D is the driving force for enterprise development, and quality is the basis for enterprise survival.We a fine chemical company specialising in the manufacture of products for pharmaceutical and health care, flavour/fragrance, personal care, and other specialised chemical and industrial applications.The company's production base is equipped with enamel reactors from 50L to 5000L, stainless steel ultra-low temperature reactors and conventional separation and drying equipment.The main technical force is composed of doctors and masters who have been engaged in organic synthesis for many years. More than 90% of them have bachelor degree or above.Since the establishment of the company, it has established good and stable cooperative relations with many domestic and foreign pharmaceutical companies.
Related Products:
1,7-dicloro-4-metoxi-isoquinolina CAS:630423-36-8
|
2-Hydroxy-4-methoxybenzaldehyde
|
1-fluoro-7-chloroheptane