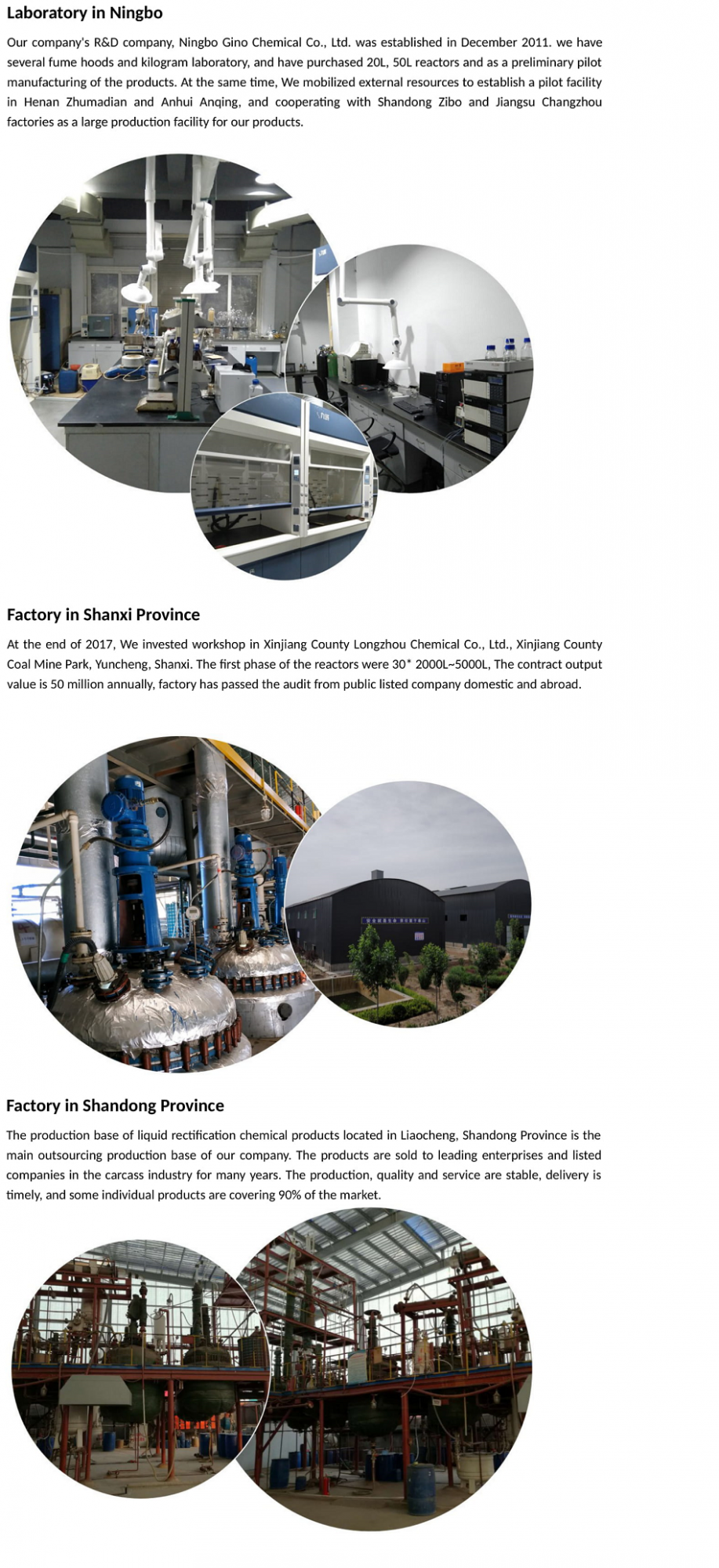 Chemical Name:CHLOROMETHYL(METHYL)DIMETHOXYSILANE
CAS.NO:2212-11-5
Synonyms:chloromethyldimethyoxymethylsilane;
Molecular Formula:C4H11ClO2Si
Molecular Weight:154.66700
Physical and Chemical Properties:
Density:1.064;
Boiling point:128.1oC;
Flash point:55oC;
Index of Refraction:1.402;
Specification:
AppearanceColorless transparent liquid
Purity(GC):≥97.0%
Packing:210 kg/drum, can also be packaged according to customer requirements
Storage:Store in a cool, ventilated place
Application:It can be used as a coupling agent to improve adhesion of organic resins to inorganic surfaces.
It can be used as an intermediate for other functional organosilanes.
We are supplier of CHLOROMETHYL(METHYL)DIMETHOXYSILANE CAS:2212-11-5,We offer custom synthesis of various chemical compounds like chloromethyldimethyoxymethylsilane CAS:2212-11-5 and custom manufacturing of CHLOROMETHYL(METHYL)DIMETHOXYSILANE, please feel free to contact us for your demand of chloromethyldimethyoxymethylsilane,suppose you are looking for CHLOROMETHYL(METHYL)DIMETHOXYSILANE factory, produer or manufacturer.
We are the premier choice for all your chemical needs, we offer products with the tightest specifications in the industry to make your work easier.With strong technical accumulation and innovative research and development capabilities, he is good at various types of chemical reactions such as hydrogenation, nitration, Suzuki coupling, cyanation, diazotization, bromination, wittig reaction, Grignard reaction, redox reaction and ultra-low temperature reaction.The company's production base is equipped with enamel reactors from 50L to 5000L, stainless steel ultra-low temperature reactors and conventional separation and drying equipment.Our company is committed to the research and development, production and sales of bulk drugs and their intermediates, fine chemicals.Synthesis of reference compounds, intermediates, drug candidates, impurities and metabolites for customers with a range of milligrams to kilograms (including GMP quality).