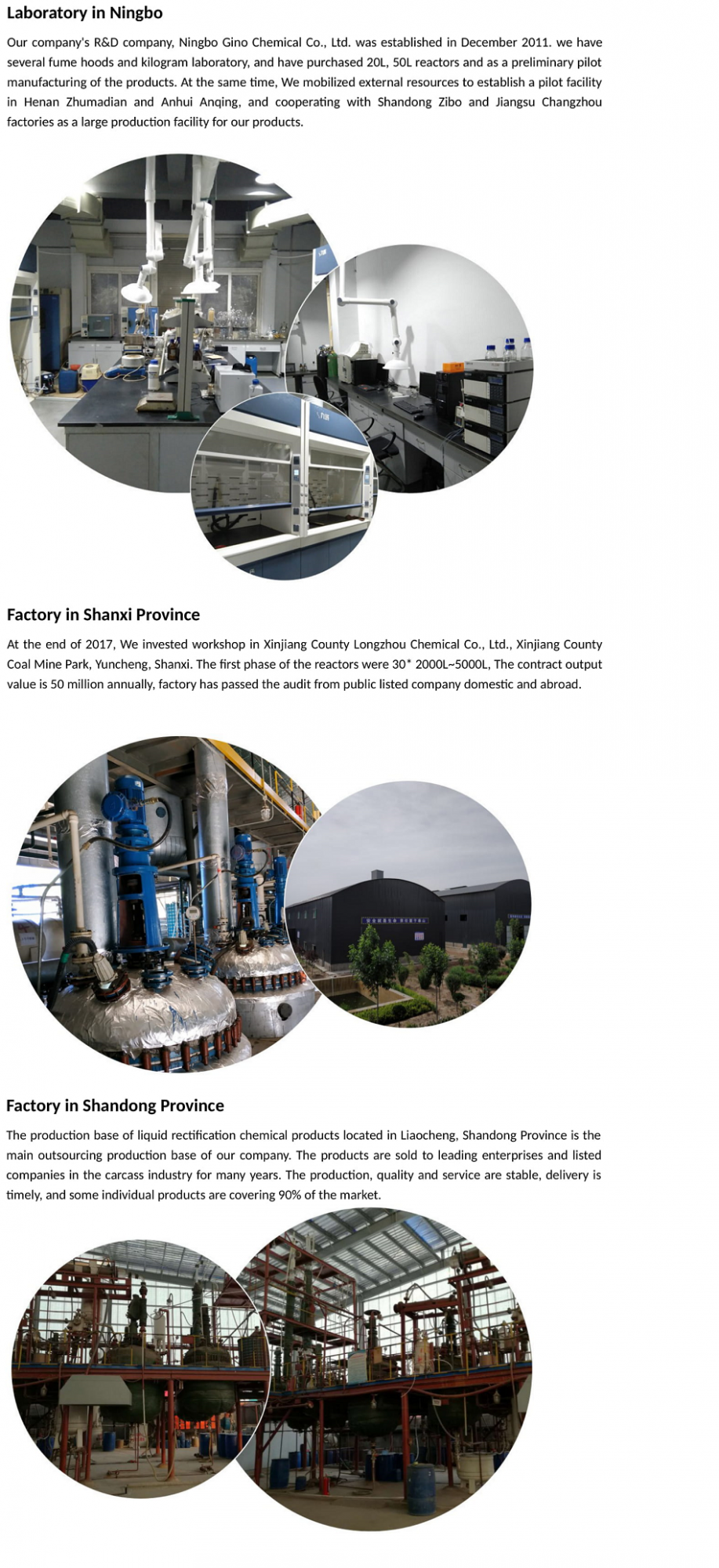 Chemical Name: trans-1,2-Cyclohexanedicarboxylic acid
CAS.NO: 2305-32-0
Synonyms:
TRANS-HEXAHYDRO-PHTHALIC ACID
TRANS-CYCLOHEXANE-1,2-DICARBOXYLIC ACID
trans-1,2-Cyclohexanedicarboxylic Acid
1,2-trans-cyclohexane-dicarboxylic acid
trans-Cyclohexane-1,2-dicarboxylic acid,trans-Hexahydrophthalic acid
1,2-Cyclohexanedicarboxylic acid, trans-
rac-trans-cyclohexane-1,2-dicarboxylic acid
trans-Hexahydrophthalic acid
TRANS-1,2-CYCLOHEXANEDICARBOXYLIC ACDI
1,2-cyclohexanedicarboxylic
Trans-1,2-cyclohexane carboxylic acid
Molecular Formula: C8H12O4
Molecular Weight: 172.17800
Physical and Chemical Properties:
Density: 1.314 g / cm3
Boiling point: 384.1ºC at 760 mmHg
Melting point: 228-230 ° C (lit.)
Flash point: 200.3ºC
Refractive index: 1.521
Specification:
Appearance: white crystalline powder
Purity:≥98.0%
Loss on drying: ≤1.0%
Sulphated ash(%): ≤0.1%
Heavy metals(ppm): ≤20
Water:≤0.5%
Residue on ignition:≤0.1%
Packing:
25kg cardboard drum or according to customer specified requirements
Storage:Store in a tightly closed container. Store in a cool, dry, well-ventilated area away from incompatible substances.
Application: trans-1,2-Cyclohexanedicarboxylic Acid is used as a reagent in the synthesis of enantiopure (α-cyanoalkyl)(tetrahydropyrido[4,3-b]indolecarbonyl)cyclohexanecarboxamides and its analogs as selective cathepsin K inhibitors for the treatment of osteoarthritis. Also used as a reagent in the synthesis of novel cyclopentanedicarboxamide sodium channel blockers as a potential treatment for chronic pain.. Intermediates of Lurasidone hydrochloride CAS:367514-88-3.
We are supplier of trans-1,2-Cyclohexanedicarboxylic acid CAS:2305-32-0,We offer custom synthesis of various chemical compounds like Trans-1,2-cyclohexane carboxylic acid CAS:2305-32-0 and custom manufacturing of TRANS-1,2-CYCLOHEXANEDICARBOXYLIC ACDI, please feel free to contact us for your demand of Trans-1,2-cyclohexane carboxylic acid,suppose you are looking for Trans-1,2-cyclohexane carboxylic acid factory, producer or manufacturer.
We place the highest value on the enduring nature of our customer relationships, the quality of our products and services and the continuity and integrity of our people.The production base is mainly located in Liaocheng City, Shandong Province, and Yuncheng City, Shanxi Province. It can complete the pilot test and enlarge the production work of various types of reactionsWe are supplier of ingredients used in a large variety of applications. We have extensive product offerings, technical services and support, and a qualified sales team ready to deliver smart solutions for your specific needs.We listen carefully to our customers' opinions and needs, and provide timely and effective feedback, and continue to improve and improve, ready to accept greater challengesThe products are exported to Europe, America, Middle East, India, Southeast Asia and other countries and regions, and have been recognized and highly praised by the market and customers.