Phenyltrimethoxysilane CAS:2996-92-1
| | |
| --- | --- |
| Structural Formula | |
| Product Name | Phenyltrimethoxysilane |
| Synonym | phenyl trimethylsiloxane;phenyl trimethoxy silane;Phenyltrimethoxysilane;Phenylmethoxysilane |
| CAS No. | 2996-92-1 |
| Molecular Weight | See details |
| Specifications | Upon request |
| Packing | Sea or Airworthy packing |
| Material Safety Data Sheet | Upon request |
| Availability | Please visit www.nbinno.com for our official company website or sending email to info@nbinno.com for more information. |

Chemical Name:Phenyltrimethoxysilane
CAS.NO:2996-92-1
Synonyms:Silane, trimethoxyphenyl-; Phenylmethoxysilane;
Trimethoxy(phenyl)silane; phenyl trimethylsiloxane; phenyl trimethoxy silane;
Molecular Formula:C9H14O3Si
Molecular Weight:198.29100

Physical and Chemical Properties:
Density:1.062;
Melting point:-25oC;
Boiling point:233oC;
Flash point:92oC;
Index of Refraction:1.468;

Specification:
Appearance:Colorless transparent liquid
Purity(GC):≥99.0%

Packing:200 kg/drum, can also be packaged according to customer requirements
Storage:Store in a cool, ventilated place
Application:It is used to modify the suface of inorganic fillers such as wolastonite and aluminum trihydroxide.It makes the surface of these inorganic fillers more hydrophobic and thus increases their dispersability in mineral-filled polymers.
It is especially suited for polymers that are processed at elevated temperatures.It reduces the viscosity of the polymer melt.




We are supplier of Phenyltrimethoxysilane CAS:2996-92-1,We offer custom synthesis of various chemical compounds like phenyl trimethoxy silane CAS:2996-92-1 and custom manufacturing of phenyl trimethylsiloxane, please feel free to contact us for your demand of Phenyltrimethoxysilane,suppose you are looking for Phenylmethoxysilane factory, produer or manufacturer.


Our specialty chemicals are essential to technologies for consumer safety, environmental sustainability, advanced product performance and industrial process efficiency.By following our guiding principles of Samples, Quotes, Literature, and Innovation, we are able to make continual process improvements for customers.In addition to our core competence in the standard unit operations of organic chemical synthesis, we offer specialised reaction technology, including innovative organometallic synthesis, catalytic transfer hydrogenation and the various operations required for synthesis of chiral compounds.Our team has 20 years of R&D, production and management experience and concepts, and domestic and foreign market experience.We provide our customers with friendly, professional service and reliable, high performance products that have been manufactured according to an accredited quality management system ISO 9001:2015.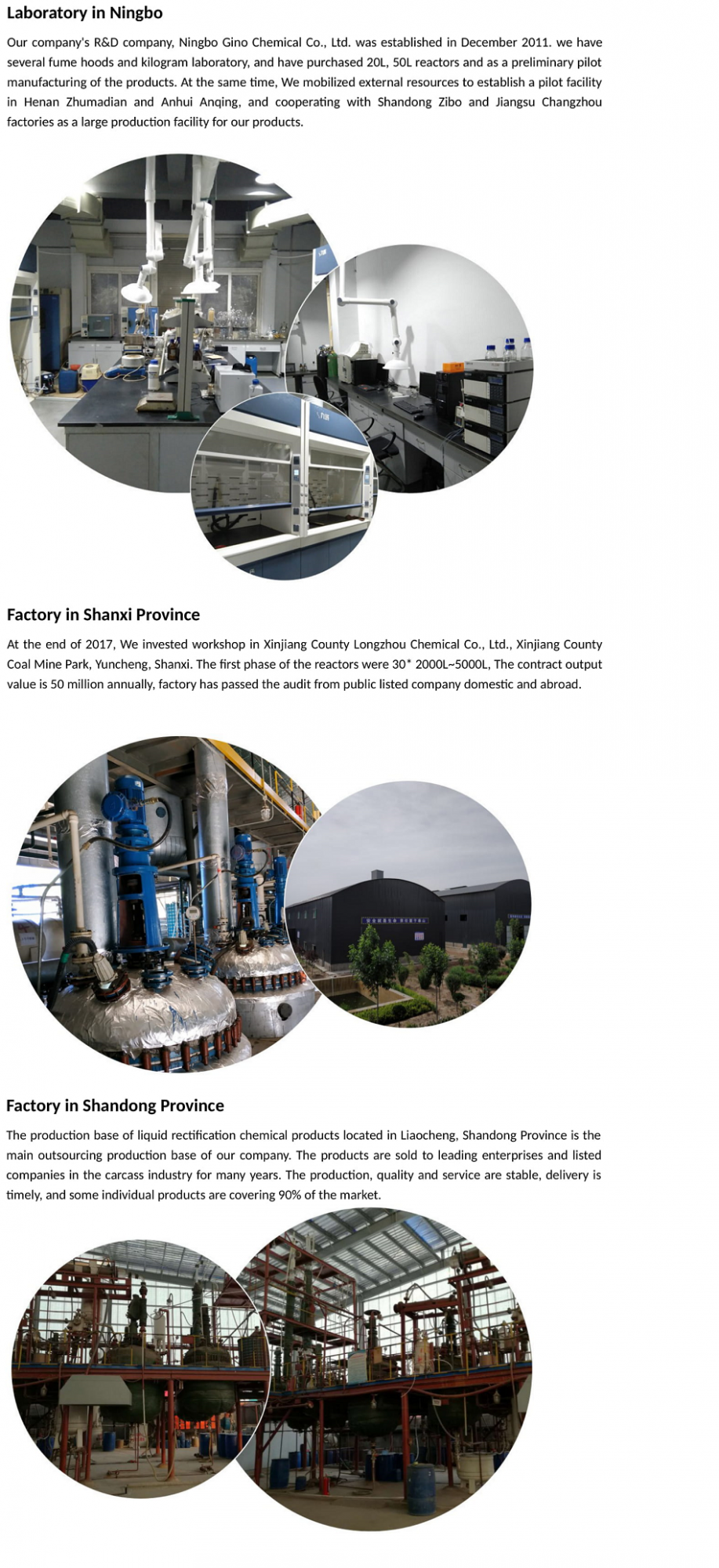 Experienced Reaction

Alkylation

Polymerization

Diazotization

Neutrallzation

Sulfonation

Decompose

Nitration

Elimination

Esterification

Addition

Chlorination

Substitution

Dehydrogenation

Reduction

Hydrogenation

Oxidation
Strong Products
Contact us:

NINGBO INNO PHARMCHEM CO.,LTD.

Add: 6F-5,No.163 Ruiqing Rd.,Ningbo Zhejiang 315000 China

Tel: 86-574-87319282 |

Fax: 86-574-27912196

E-mail: cdmo@nbinno.com