3-Aminopropyl-methyl-diethoxysilane CAS:3179-76-8
| | |
| --- | --- |
| Structural Formula | |
| Product Name | 3-Aminopropyl-methyl-diethoxysilane |
| Synonym | 3-(Diethoxy(methyl)silyl)propan-1-amine;3-Aminopropyl(diethoxy)methylsilane;3-Aminopropyl-methyl-diethoxysilane;3-(Diethoxy(methyl)silyl)propan-1-amine |
| CAS No. | 3179-76-8 |
| Molecular Weight | See details |
| Specifications | Upon request |
| Packing | Sea or Airworthy packing |
| Material Safety Data Sheet | Upon request |
| Availability | Please visit www.nbinno.com for our official company website or sending email to info@nbinno.com for more information. |
Chemical Name:3-Aminopropyl-methyl-diethoxysilane
CAS.NO:3179-76-8
Synonyms:3-(Diethoxy(methyl)silyl)propan-1-amine; 3-Aminopropyl(diethoxy)methylsilane;
Molecular Formula:C8H21NO2Si
Molecular Weight:191.34300

Physical and Chemical Properties:
Density:0.916;
Boiling point:85-88oC;
Flash point:68oC;
Index of Refraction:1.4272;

Specification:
Appearance:Colorless transparent liquid
Purity(GC):≥98.0%

Packing:180 kg/drum, can also be packaged according to customer requirements
Storage:Store in a cool, ventilated place
Application:It is an important or even essential constituent in many applications. It is particularly important as an additive to cold-curing phenolic and furan foundry resins to improve the flexural strength of sand/resin elements with very long shelf life of the resins.
Further examples are: Glass fiber/glass fabric composites: as size constituent or finish Glass and metal primers Abrasives: as additive to phenolic resin binders Sealants and adhesives: as primer or additive and for chemical modification Mineral-filled composites: for pretreatment of filers and pigments or as additive Synthesis of functional silicones The most important efects which can be achieved using it are improvements in product properties, such as: Adhesion; Mechanical properties, for example flexural strength, tensile strength, impact strength and modulus of elasticity; Moisture and corrosion resistance; Electrical properties, for example dielectric constant, volume resistivity; And improvements in processing properties, such as: Better filler dispersion: Rheological behavior: reduction in viscosity, Newtonian behaviour; Higher degree of filing.


We are supplier of 3-Aminopropyl-methyl-diethoxysilane CAS:3179-76-8,We offer custom synthesis of various chemical compounds like 3-Aminopropyl(diethoxy)methylsilane CAS:3179-76-8 and custom manufacturing of 3-(Diethoxy(methyl)silyl)propan-1-amine, please feel free to contact us for your demand of 3-Aminopropyl-methyl-diethoxysilane,suppose you are looking for 3-(Diethoxy(methyl)silyl)propan-1-amine factory, produer or manufacturer.
Dozens of reaction types such as chiral synthesis and resolution, oxidation, reduction, condensation, nitrosation, bromination.It involves demanding processes including high pressure hydrogenation, oxygen free water environment, ultra low temperature environment and highly corrosive environmentWe are a market leader in the development and manufacturing of high performance specialty chemicals. We foster an ambitious culture that focuses on open innovation for new chemical products and business growth.The production base is mainly located in Liaocheng City, Shandong Province, and Yuncheng City, Shanxi Province. It can complete the pilot test and enlarge the production work of various types of reactionsOur company is able to achieve rapid response in the product development, pilot-amplification process, and quickly transform technology into production.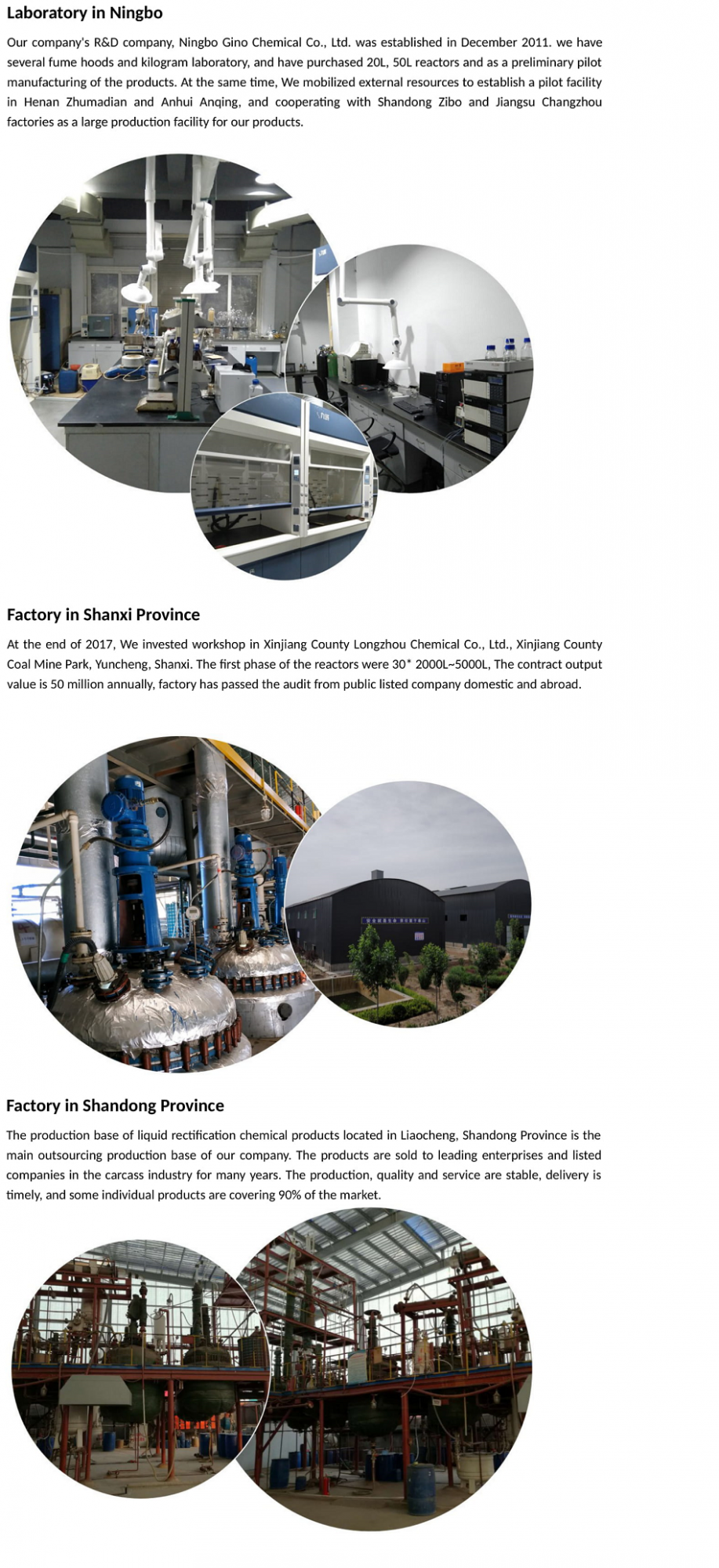 Experienced Reaction

Alkylation

Polymerization

Diazotization

Neutrallzation

Sulfonation

Decompose

Nitration

Elimination

Esterification

Addition

Chlorination

Substitution

Dehydrogenation

Reduction

Hydrogenation

Oxidation
Strong Products
Contact us:

NINGBO INNO PHARMCHEM CO.,LTD.

Add: 6F-5,No.163 Ruiqing Rd.,Ningbo Zhejiang 315000 China

Tel: 86-574-87319282 |

Fax: 86-574-27912196

E-mail: cdmo@nbinno.com