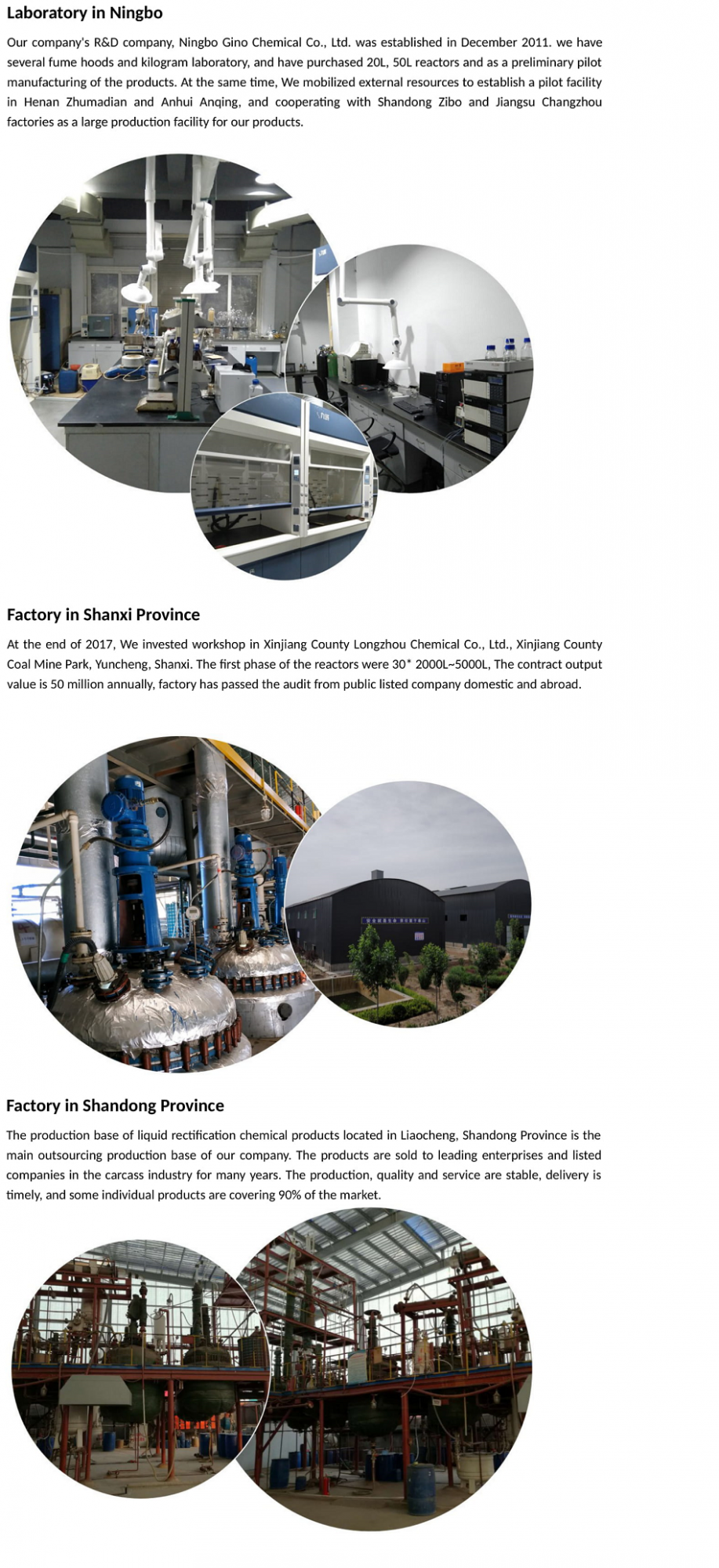 Chemical Name: DIMETHYLCYSTEAMINE HYDROCHLORIDE
CAS.NO: 32047-53-3
Synonyms:
1-Amino-2-methylpropane-2-thiol hydrochloride
2-mercaptoisobutylamine hydrochloride
1-Amino-2-methyl-propan-2-thiol,Hydrochlorid
1-Amino-2-methyl-2-propanethiol hydrochloride DMCHCL
1-AMINO-2-METHYLPROPANE-2-THIOL
1-amino-2-methyl-2-propanthiol-hydrochloride
1-amino-2-methyl-2-propanethiol hydrochloride
DimethylcystamineHcl
Molecular Formula: C4H12ClNS
Molecular Weight: 141.66300
Physical and Chemical Properties:
Density: 0.936 g/cm3
Boiling point: 146.2ºC at 760 mmHg
Melting point: /
Flash point: 42.2ºC
Refractive index:/
Specification:
Appearance: White powder
Purity:≥99.0%
Heavy metal:1ppm
any single impurity:0.1%

Packing:
25kg cardboard drum or according to customer specified requirements
Storage:
Store in a tightly closed container. Store in a cool, dry, well-ventilated area away from incompatible substances.
Application:
2-Methyl-2-thiopropylamine Hydrochloride is used in the synthesis of biologically oriented organic sulfur compounds.Intermediates of Valnemulin CAS:101312-92-9.
We are supplier of DIMETHYLCYSTEAMINE HYDROCHLORIDE CAS:32047-53-3,We offer custom synthesis of various chemical compounds like DimethylcystamineHcl CAS:32047-53-3 and custom manufacturing of 1-Amino-2-methylpropane-2-thiol hydrochloride, please feel free to contact us for your demand of DimethylcystamineHcl,suppose you are looking for 2-mercaptoisobutylamine hydrochloride factory, producer or manufacturer.
Our goal is to deliver products that meet our high standards and exceed your expectations, on time, every time.Provide you with the most thoughtful and comprehensive service at the best price.The main technical force is composed of doctors and masters who have been engaged in organic synthesis for many years. More than 90% of them have bachelor degree or above.Our unique, open innovation partnerships have led to the development of creative strategies and new technologies, giving our customers a distinct market advantage. We build business by creating the best performance chemicals through innovation and collaboration with our partners.Our team has 20 years of R&D, production and management experience and concepts, and domestic and foreign market experience.