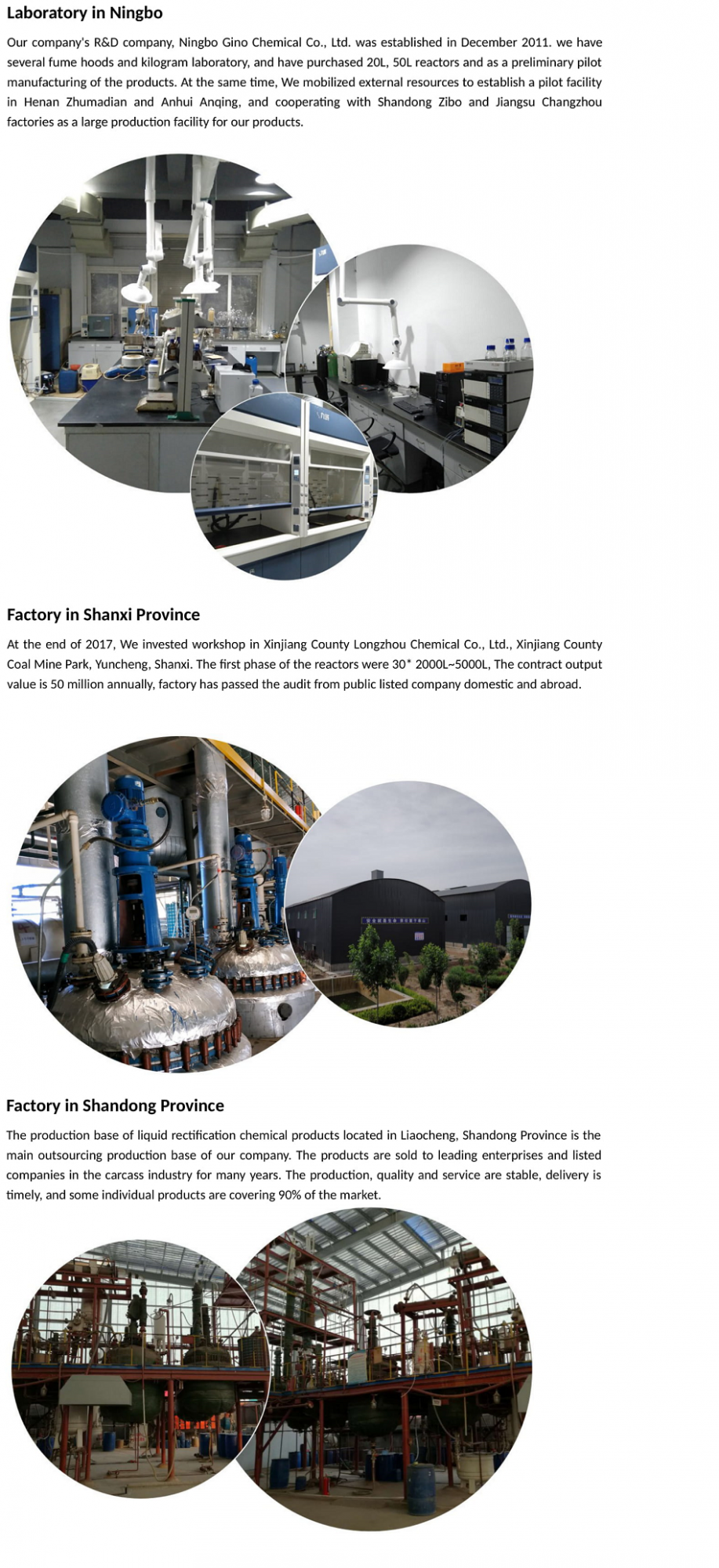 Chemical Name: 2,3-Di-O-para-toluoyl-D-tartaric acid
CAS.NO: 32634-68-7
Synonyms:
L-di-p-Toluyltartaric acid
D-DTTA
toluoyl-tartaric acid
Di-4-Toluoyl-D-tartaric acid
Di-p-toluoyl-D-tartaric acid
DI-P-TOTUOYL-D-TARTARIC ACID
Di-p-Toluoyl-D-tartaric
D-PTTA
2,3-Di-O-para-toluoy
(+)-O,O'-Di-p-toluoyl-D-tartaric Acid
(2S,3S)-2,3-Bis((4-methylbenzoyl)oxy)succinic acid
(+)-O,O′-Di-p-toluoyl-D-tartaric acid
(+)-Di-p-toluoyl-D-tartaric Acid
di-O,O'-p-toluyl-L-tartaric acid
(+)-O,O`-Di-p-toluoyl-D-tartaric Acid
Molecular Formula:C20H18O8
Molecular Weight: 386.35200
Physical and Chemical Properties:
Density: 1.371 g / cm3
Boiling point: 626.5ºC at 760 mmHg
Melting point: 169-171 °C(lit.)
Flash point: 223.2ºC
Refractive index: 1.597
Specification:
Appearance: White or off-white powder or crystilline powder
Purity:≥99.0%
Specific rotation[α]D20(c=1, ethanol):+136º~ +143º
Clarity: Clear
Water : ≤0.50%
Packing:
25kg cardboard drum or according to customer specified requirements
Storage:Stored in a cool and dry well-closed container. Keep away from moisture and strong light/heat.
Application:Intermediates of Carumonam Sodium CAS:86832-68-0.
We are supplier of 2,3-Di-O-para-toluoyl-D-tartaric acid CAS:32634-68-7,We offer custom synthesis of various chemical compounds like (+)-O,O`-Di-p-toluoyl-D-tartaric Acid CAS:32634-68-7 and custom manufacturing of Di-p-Toluoyl-D-tartaric, please feel free to contact us for your demand of Di-4-Toluoyl-D-tartaric acid,suppose you are looking for Di-4-Toluoyl-D-tartaric acid factory, producer or manufacturer.
Has a group of experienced researchers in the field of organic synthetic chemistry, with the ability to solve problems and troubleshoot.Our company is committed to the research and development, production and sales of bulk drugs and their intermediates, fine chemicals.We place the highest value on the enduring nature of our customer relationships, the quality of our products and services and the continuity and integrity of our people.We have leading technology and rich synthesis experience, and our professional R&D team is currently in the leading position in China.Strict quality control platform for strict quality identification of synthetic products.