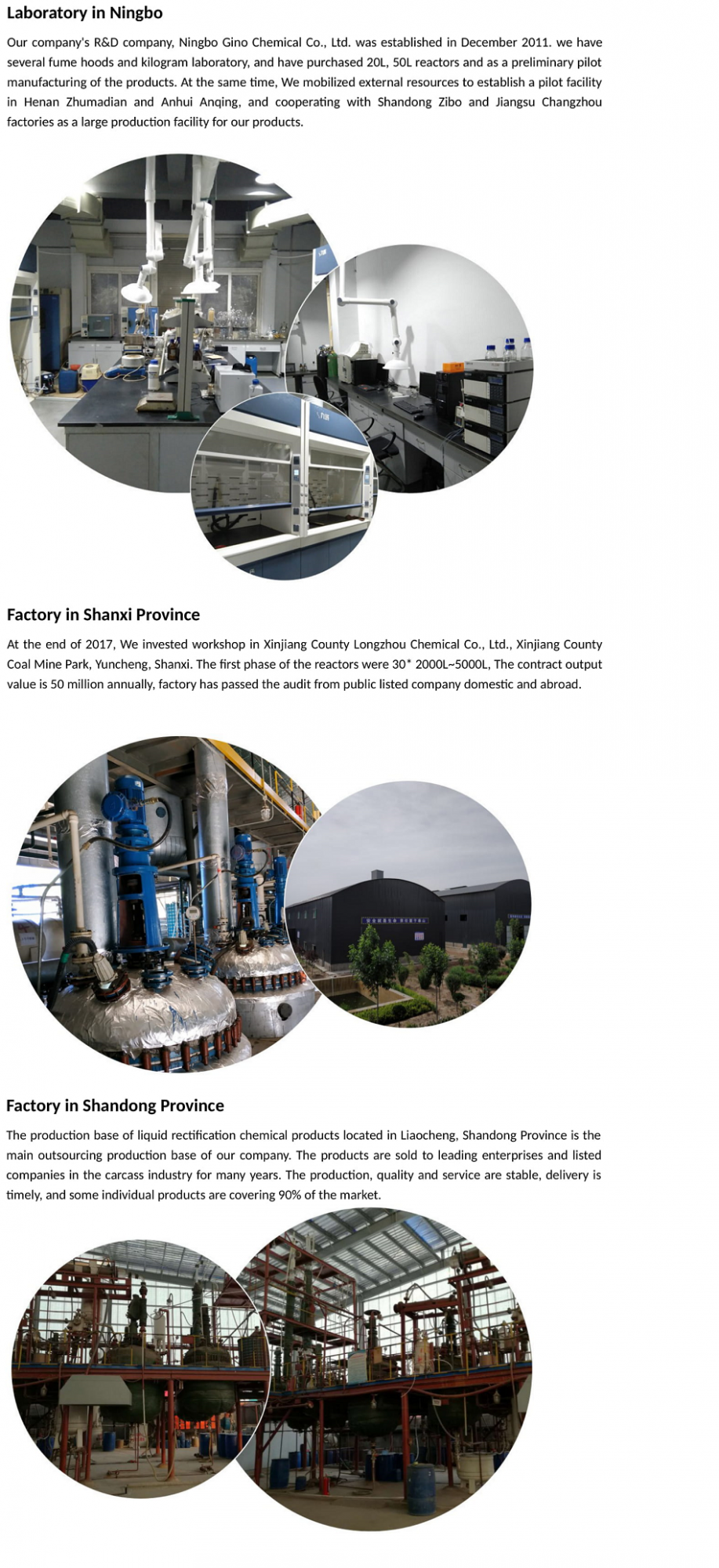 CAS No: 3282-30-2
Product Name: Pivaloyl chloride
Other Name:
Pivaloyl chloride
2,2,2-trimethylacetyl chloride
2,2-dimethylpropionic acid chloride
2,2-dimethyl-propionyl chloride
2,2-Dimethylpropanoyl chloride
1-chloro-2,2-dimethylpropionaldehyde
Trimethylacetyl chloride
Density: 1.0±0.1 g/cm3
Boiling Point: 107.2±8.0 °C at 760 mmHg
Melting Point: -56 °C
Molecular Formula: C5H9ClO
Molecular Weight: 120.577
Flash Point: 8.9±0.0 °C
Exact Mass: 120.034195
PSA: 17.07000
LogP: 1.68
Vapour density: >1 (vs air)
Vapour Pressure: 27.4±0.2 mmHg at 25°C
Index of Refraction: 1.417
Water Solubility: Hydrolysis
Specification
Appearance: Colorless or light yellow liquid
Assay: ≥99.0%
Pivalic acid: ≤0.5%
Pivalic anhydride: ≤0.5%
Application
Intermediates of AZIDITHION CAS: 78-57-9.
Intermediates of Cefalexin CAS: 15686-71-2.
Intermediates of Cefazolin CAS: 25953-19-9.
Be used as pesticide intermediate and pharmaceutical intermediate.
Applicationd as the main raw material in the preparation of synthetic amides and phenolic esters; used in the production of (hydroxy) amikacin, cephalosporin (cephalosporin), cefazolin, dipentavalyl adrenaline and other drugs; in addition, it is also used in the synthesis of oxidation Tert-Butyl tert-valerate, herbicide ketone (Nongsi) insecticide, oxacarb and pesticide GuangMei Ling; etc .; also used in the production of initiator TBPP, photosensitive materials. It is also widely used in polymer polymerization.
Package: 25kg/drum, can also be designed according to customer requirements.
Storage: Store in cool place. Keep container tightly closed in a dry and well-ventilated place.
We are supplier of Pivaloyl chloride CAS:3282-30-2,We offer custom synthesis of various chemical compounds like Trimethylacetyl chloride CAS:3282-30-2 and custom manufacturing of 2,2-Dimethylpropanoyl chloride, please feel free to contact us for your demand of 2,2-dimethyl-propionyl chloride,suppose you are looking for 2,2-Dimethylpropanoyl chloride factory, producer or manufacturer.
Our company is engaged in the production and custom synthesis of intermediates such as APIs and special chemicals. Relying on our own strong R&D capabilities, we accept custom synthesis of advanced pharmaceutical intermediates, as well as custom synthesis of other types of advanced chemicals, with mature R&D systems and production capacities from gram to tonnage.Adhering to the "quality-oriented, customer first, integrity management, professional services" business purposes.Our company is committed to the research and development, production and sales of bulk drugs and their intermediates, fine chemicals.Our company is a manufacturer, factory, supplier, welcome domestic and foreign customers to come to consult.Our goal is to deliver products that meet our high standards and exceed your expectations, on time, every time.
Related Products:
1-[[2,4,6-Tris(Isopropyl)Phenyl]Sulphonyl]-1H-1,2,4-Triazole
|
3-(2-Bromoacetyl)-5-chlorothiophene-2-sulfonamide
|
2,4-Dichloropyrimidine CAS:3934-20-1