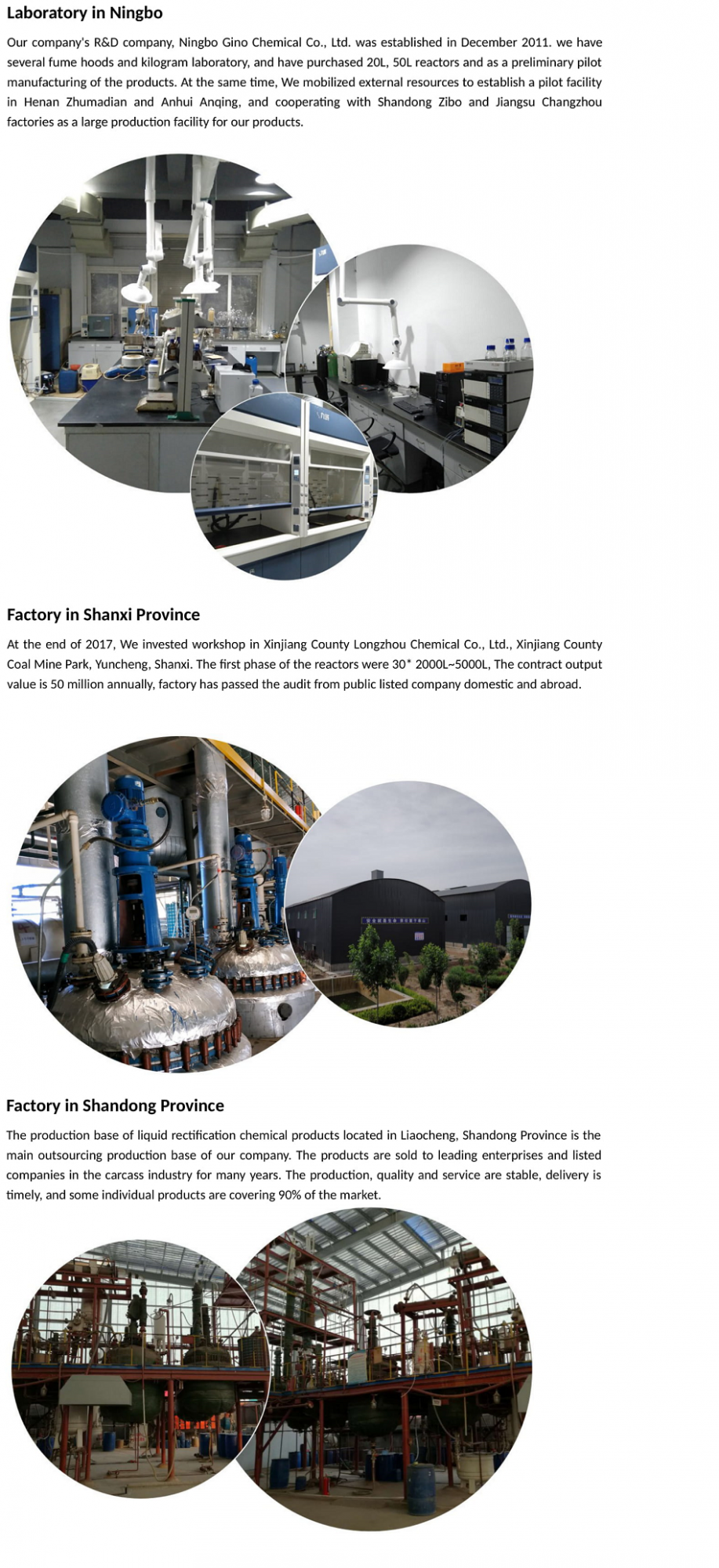 Product Name: 2-(3,5-Di-Tert-Butyl-2-Hydroxyphenyl)-5-Chlorobenzotriazole
Other Name: 2,4-Di-tert-butyl-6-(5-chloro-2-benzotriazolyl)phenol;UV ABSORBER UV-327
CAS No: 3864-99-1
MF: C20H24ClN3O
MW: 357.87700
Density: 1.26 g/cm3
Boiling point: 469.2ºC at 760 mmHg
Melting point: 150-153 °C(lit.)
Flash point: 234°C
Refractive index: 1.596
UN Number: UN1262
UN Proper Shipping Name: OCTANES
Transport hazard class: 3
Packing group: II
Specification
Appearance: Light yellow powder
Assay: ≥99%
Loss on drying: ≤0.50%
Transmittance: 460nm≥92%; 500nm≥95%
Application
It is an excellent anti-aging additive with excellent performance.
It has the characteristics of light color, non-toxicity, good compatibility, low mobility and easy processing.
It has the greatest protection against polymers.
It also helps to reduce color, while delaying yellowing and retarding physical property loss.
It is widely used in PE, PVC, PP, PS, PC, PU, ABS, plexiglass, polypropylene fiber and ethylene vinyl acetate.
Package: Packed in cardboard drum lined with plastic bag, net weight 25kg/drum, can also be designed according to customer requirements.
Storage: UV-absorbing agent UV-327 is non-toxic, non-flammable, non-explosive, non-corrosive, and has good storage stability.
We are supplier of 2-(3,5-Di-Tert-Butyl-2-Hydroxyphenyl)-5-Chlorobenzotriazole CAS:3864-99-1,We offer custom synthesis of various chemical compounds like UV-327 CAS:3864-99-1 and custom manufacturing of UV-327, please feel free to contact us for your demand of 2-(3,5-Di-Tert-Butyl-2-Hydroxyphenyl)-5-Chlorobenzotriazole,suppose you are looking for UV-327 factory, produer or manufacturer.
Our company is engaged in the production and custom synthesis of intermediates such as APIs and special chemicals. Relying on our own strong R&D capabilities, we accept custom synthesis of advanced pharmaceutical intermediates, as well as custom synthesis of other types of advanced chemicals, with mature R&D systems and production capacities from gram to tonnage.Our company has won the trust of customers at home and abroad with competitive price, high quality products, quick response, high quality sales service, steady and honest style, and the concept of providing one-stop service for customers. and support.Provide a variety of organic chemicals as well as special compounds, pharmaceutical intermediates synthesis services to meet customer customization needs.Our company has a complete production service chain of grams-kg-ton.We are specialists in chiral chemistry using both chemocatalysis and biocatalysis technologies, but also have practical operating experience over a wide range of modern synthetic reactions.