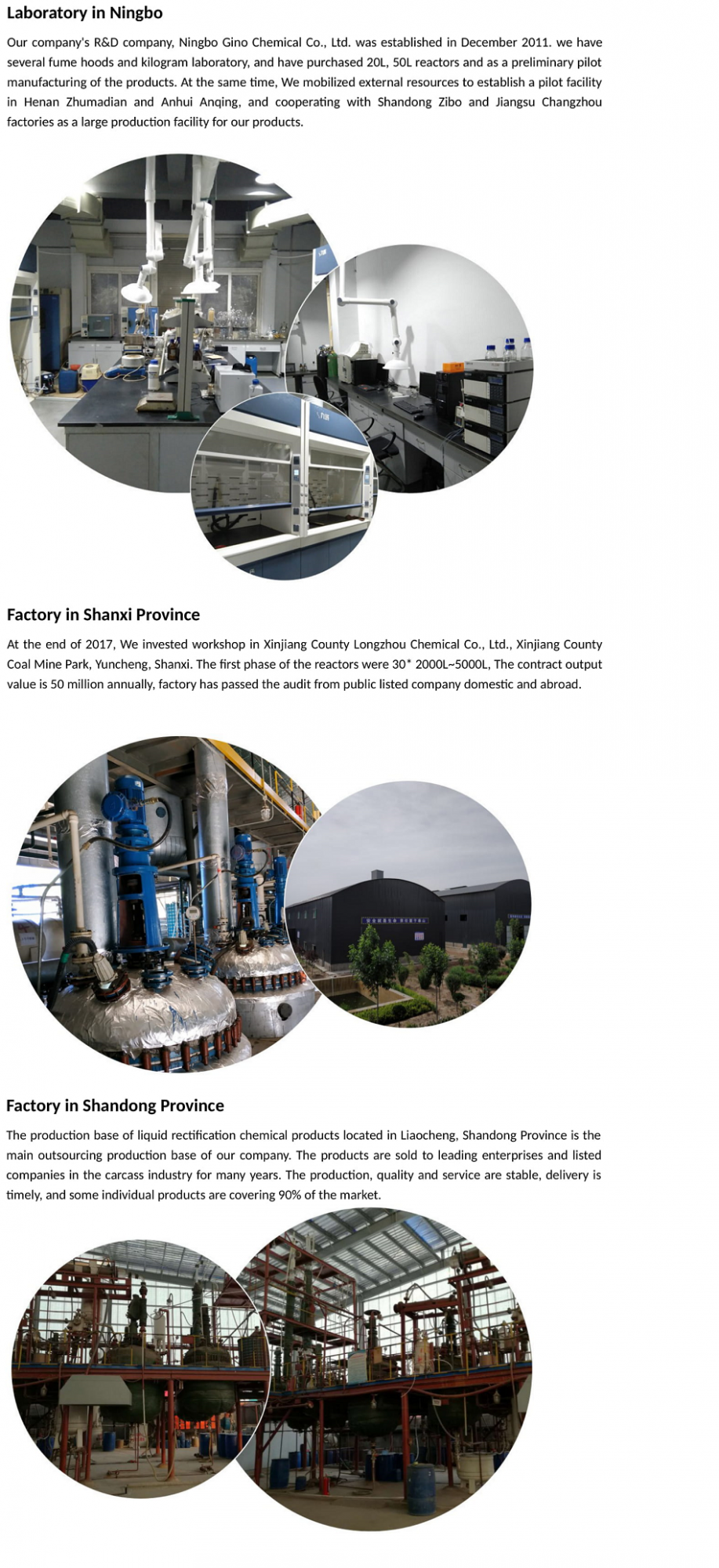 Chemical Name: 1,3-Diethoxy-2-propanol
CAS.NO: 4043-59-8
Molecular Formula: C7H16O3
Molecular Weight: 148.20000
Synonyms:
1,3-diethyl ether of glycerol
2-ethoxy-1-ethoxymethylethanol
Glycerol α,α'-Diethyl Ether
1,3-diethyl glycerol ether
1,3-glycerindiethylether
1,3-Diethoxy-2-propa
diethylin
glycerol1,3-diethylether
1,3-Diethoxy-2-Propanol
1,3-diethoxy-2-propano
1,3-Diethoxypropan-2-ol
2-Propanol,1,3-diethoxy
Glycerin-1.3-diaethylaether
Physical and Chemical Properties:
Density: 0.95 g / cm3
Boiling point: 191-192°C
Flash point: 80.9±23.2 °C
Refractive index: 1.4120
Specification:
Appearance: White powder
Purity:≥98.0%
Moisture Content: 0.25%
Impurity: 0.3%
Packing:25 kg/drum, can also be packaged according to customer requirements
Storage:The storeroom is ventilated and dry at low temperature, and it is not easy to store for a long time to prevent the generation of peroxides.
Application:
1,3-Diethoxy-2-propanol is used to prepare 3-(4-benzyloxyphenyl)propanoic acid derivatives, useful as GPR40 receptor modulators.
We are supplier of 1,3-Diethoxy-2-propanol CAS:4043-59-8,We offer custom synthesis of various chemical compounds like Glycerin-1.3-diaethylaether CAS:4043-59-8 and custom manufacturing of glycerol1,3-diethylether, please feel free to contact us for your demand of 1,3-diethyl glycerol ether,suppose you are looking for 1,3-Diethoxy-2-propanol factory, producer or manufacturer.
We offer a wide range of pharmaceutical intermediates, reference compounds for pharmaceutical companies, pharmaceutical biotech companies, universities and research institutions. Custom synthesis and production services for new reagents, etc.We have excellent management team and a group of high-quality R & D personnel and experienced technical staff.Our team has 20 years of R&D, production and management experience and concepts, and domestic and foreign market experience.Provide high quality, regulatory compliance products and services to partners and customers.Adhering to the "quality-oriented, customer first, integrity management, professional services" business purposes.
Related Products:
2,4-Dichlorophenol CAS:120-83-2
|
Ethyl 6-(4-aminophenyl)-1-(4-methoxyphenyl)-7-oxo-4,5-dihydropyrazolo[3,4-c]pyridine-3-carboxylate
|
Ácido [4- (4-etilfenil) fenil] borónico CAS:153035-62-2