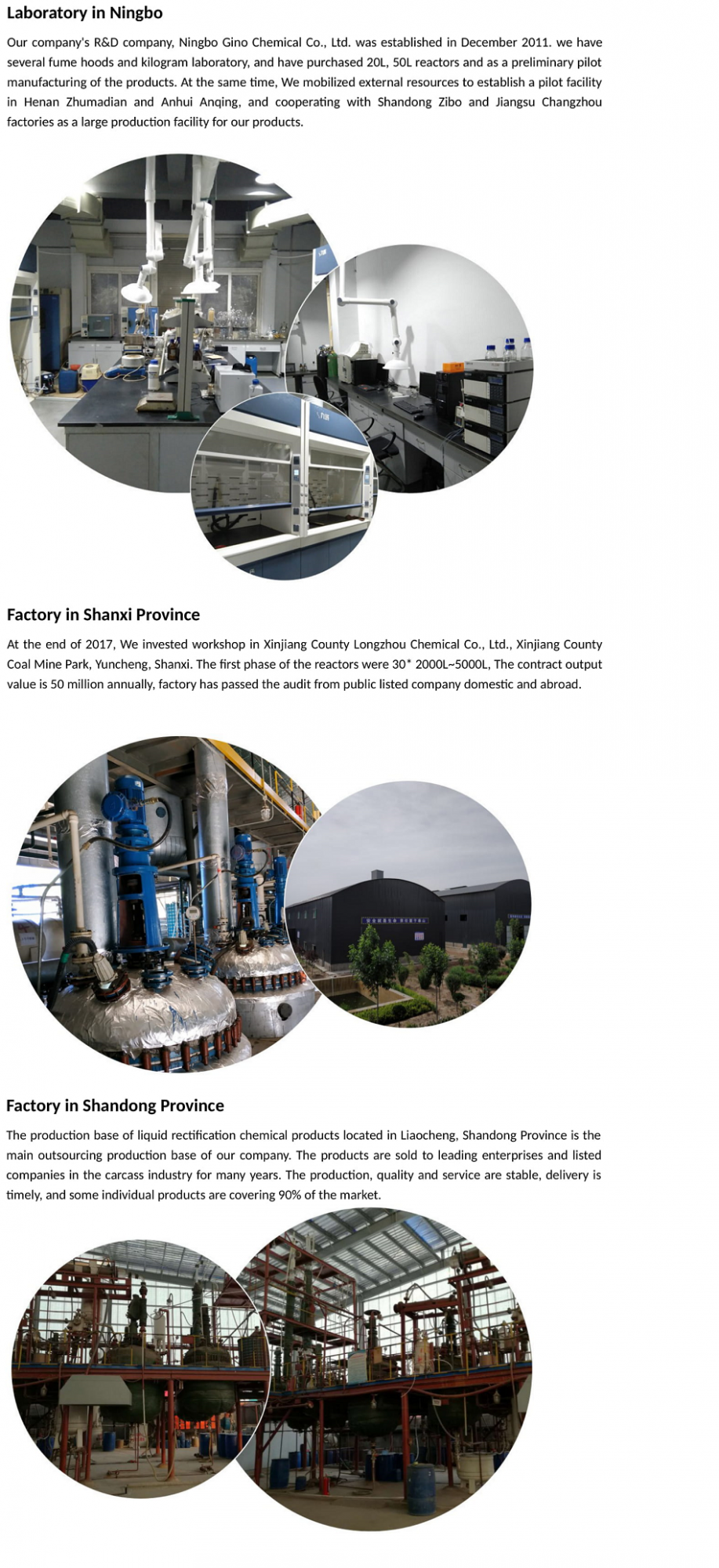 CAS No: 487-68-3
Product Name: Mesitaldehyde
Other Name:
Mesitaldehyde
2,4,6-Trimethylbenzaldehyde
2,4,6-Trimethylbenzolcarbaldehyd
2-Formylmesitylene
Density: 1.0±0.1 g/cm3
Boiling Point: 241.5±9.0 °C at 760 mmHg
Melting Point: 10-12 °C(lit.)
Molecular Formula: C10H12O
Molecular Weight: 148.202
Flash Point: 105.6±0.0 °C
Exact Mass: 148.088821
PSA: 17.07000
LogP: 3.02
Vapour Pressure: 0.0±0.5 mmHg at 25°C
Index of Refraction: 1.546
Specification
Appearance: Yellowish to colorless liquid
Assay: ≥99.0%
Loss on drying: ≤0.5%
Application
Intermediates of Tralkoxydim CAS: 87820-88-0.
Be used as pesticide intermediate, mainly used in the synthesis of the herbicide Tralkoxydim.
Package: 25kg/drum, can also be designed according to customer requirements.
Storage: Store in cool place. Keep container tightly closed in a dry and well-ventilated place.
We are supplier of Mesitaldehyde CAS:487-68-3,We offer custom synthesis of various chemical compounds like 2-Formylmesitylene CAS:487-68-3 and custom manufacturing of 2-Formylmesitylene, please feel free to contact us for your demand of Mesitaldehyde,suppose you are looking for 2,4,6-Trimethylbenzolcarbaldehyd factory, producer or manufacturer.
The products are exported to Europe, America, Middle East, India, Southeast Asia and other countries and regions, and have been recognized and highly praised by the market and customers.Synthesis of reference compounds, intermediates, drug candidates, impurities and metabolites for customers with a range of milligrams to kilograms (including GMP quality).Provide high quality, regulatory compliance products and services to partners and customers.We place the highest value on the enduring nature of our customer relationships, the quality of our products and services and the continuity and integrity of our people.We a fine chemical company specialising in the manufacture of products for pharmaceutical and health care, flavour/fragrance, personal care, and other specialised chemical and industrial applications.
Related Products:
122-82-7
|
3-bromo-2-fluoro-5-nitropiridina CAS:1868-58-2
|
4- (4-Amino-3-fluorofenoxi) -N-metilpicolinamida CAS:757251-39-1