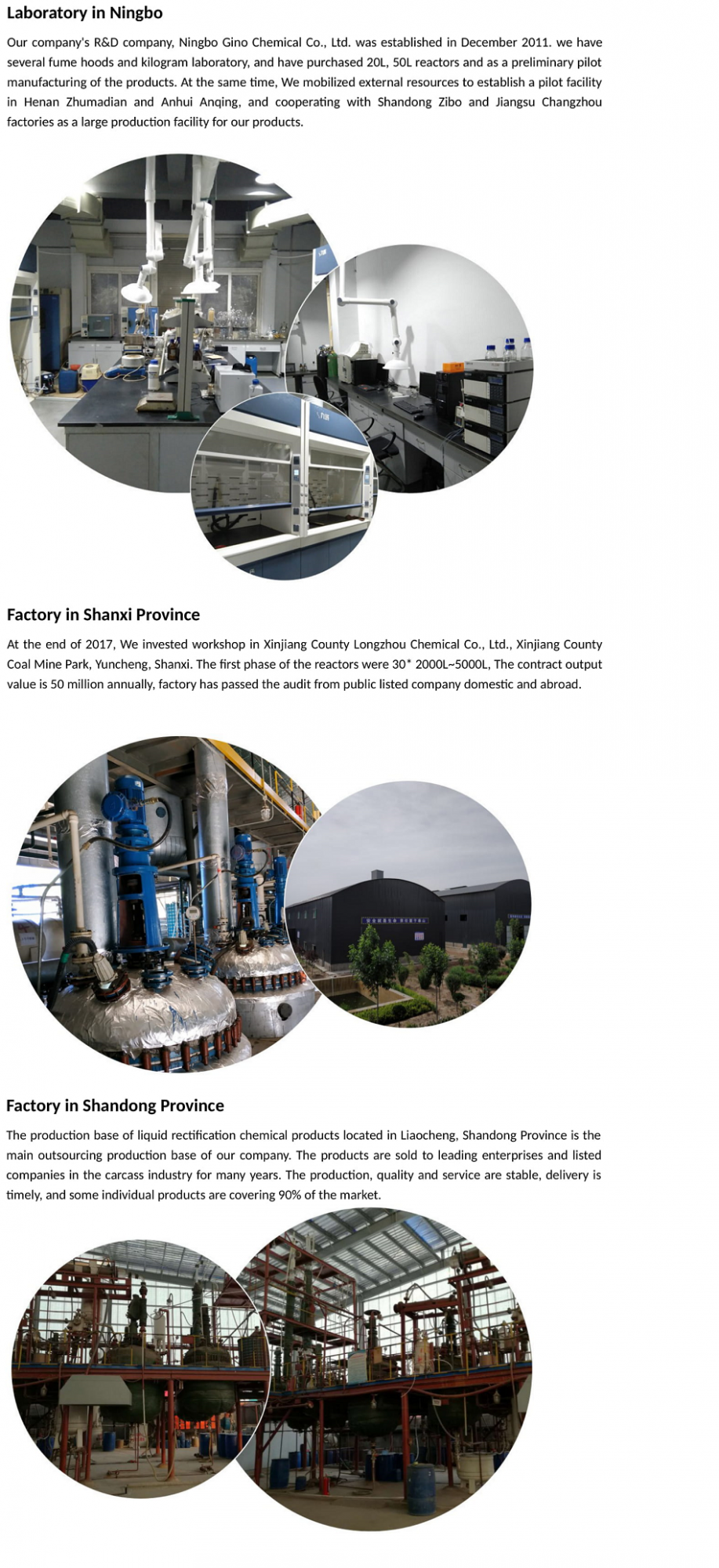 CAS No: 53636-65-0
Product Name: 5-Methylpyridine-2,3-dicarboxylic acid
Other Name:
5-Methylpyridine-2,3-dicarboxylic acid
5-Methyl-pyridin-2,3-dicarbonsaeure
5-Methyl-chinolinsaeure
5-Methyl-2,3-pyridinedicarboxylic acid
5-methyl-2,3-dicarboxypyridine
Density: 1.5±0.1 g/cm3
Boiling Point: 436.2±45.0 °C at 760 mmHg
Molecular Formula: C8H7NO4
Molecular Weight: 181.145
Flash Point: 217.6±28.7 °C
Exact Mass: 181.037506
PSA: 87.49000
LogP: -0.98
Vapour Pressure: 0.0±1.1 mmHg at 25°C
Index of Refraction: 1.611
Specification
Appearance: Yellow liquid
Assay: ≥99.0%
Loss on drying: ≤0.5%
Application
Intermediates of Imazethapyr CAS: 81335-77-5.
Be used as pesticide intermediate, mainly used in the synthesis of the herbicide Imazethapyr.
Package: 25kg/drum, can also be designed according to customer requirements.
Storage: Store in cool place. Keep container tightly closed in a dry and well-ventilated place.
We are supplier of 5-Methylpyridine-2,3-dicarboxylic acid CAS:53636-65-0,We offer custom synthesis of various chemical compounds like 5-methyl-2,3-dicarboxypyridine CAS:53636-65-0 and custom manufacturing of 5-Methylpyridine-2,3-dicarboxylic acid, please feel free to contact us for your demand of 5-Methyl-chinolinsaeure,suppose you are looking for 5-Methyl-pyridin-2,3-dicarbonsaeure factory, producer or manufacturer.
The products are exported to Europe, America, Middle East, India, Southeast Asia and other countries and regions, and have been recognized and highly praised by the market and customers.Provide high quality, high purity compounds with years of custom compound synthesis experience.Everyday our chemists and engineers are working with corporations, universities and forward-thinking organizations to pioneer new technologies and innovative approaches through advanced materials.The company has perfect analytical equipment and strict product testing methods to ensure continuous improvement of product quality and continuous optimization of product structure.We offer a wide range of pharmaceutical intermediates, reference compounds for pharmaceutical companies, pharmaceutical biotech companies, universities and research institutions. Custom synthesis and production services for new reagents, etc.
Related Products:
4-metil-2- (trifluorometil) anilina CAS:87617-23-0
|
3-cloro-2-fluorobenzaldehído CAS:85070-48-0
|
620-22-4