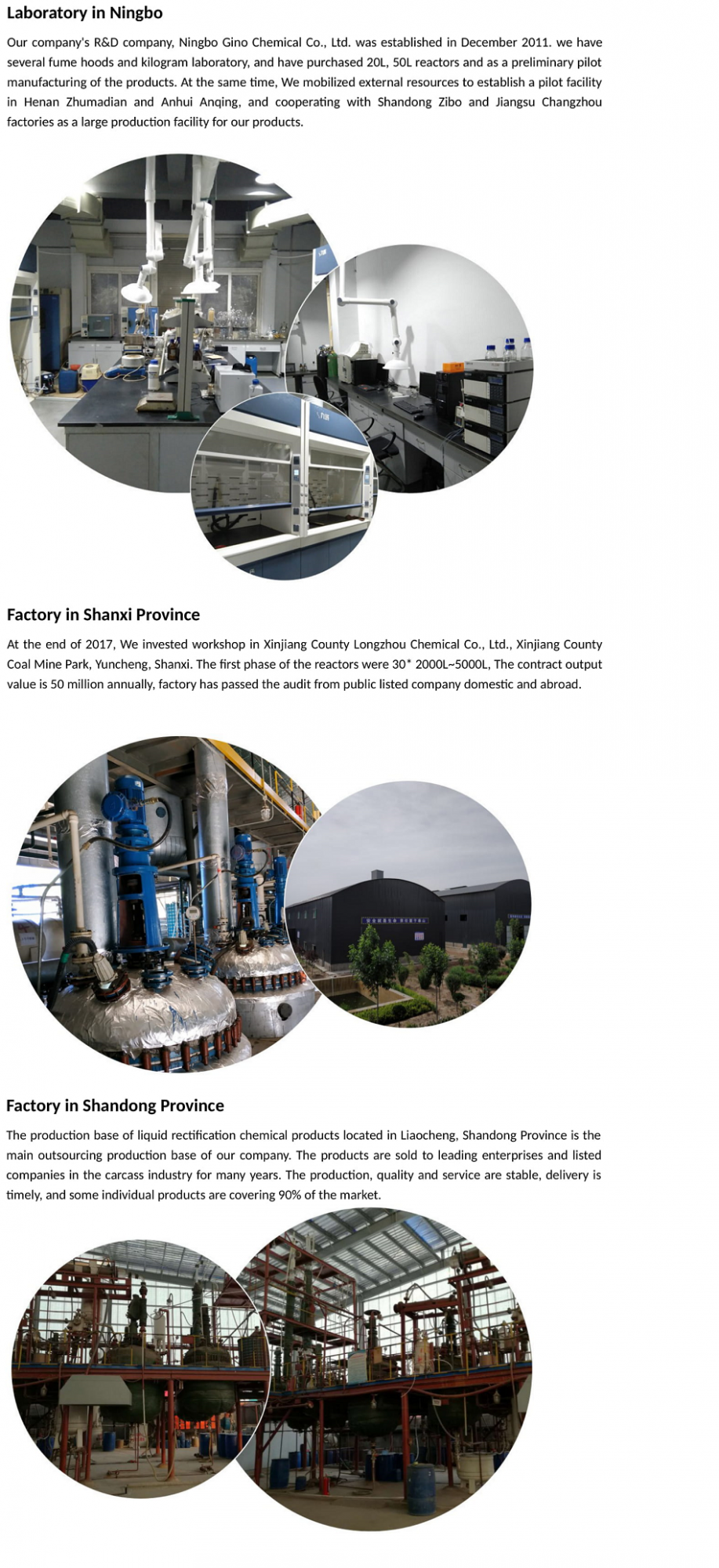 CAS No: 617-35-6
Product Name: Ethyl pyruvate
Other Name:
Ethyl pyruvate
ethyl 2-oxopropanoate
Ethylpyruvate
Density: 1.0±0.1 g/cm3
Boiling Point: 155.0±0.0 °C at 760 mmHg
Melting Point: -58 °C
Molecular Formula: C5H8O3
Molecular Weight: 116.115
Flash Point: 45.6±0.0 °C
Exact Mass: 116.047340
PSA: 43.37000
LogP: 0.05
Vapour Pressure: 3.1±0.2 mmHg at 25°C
Index of Refraction: 1.399
Storage condition: 0-6°C
Specification
Appearance: Colorless to light yellow transparent liquid
Assay: ≥98.0%
Heavy metals: ≤50ppm
Chloride: ≤50ppm
Sulfate: ≤100ppm
Arsenic: ≤10ppm
Relative density: 1.404-1.406
Water: ≤2.0%
Application
Intermediates of Thiabendazole CAS: 148-79-8.
Be used as pesticide intermediate, mainly used in the synthesis of the fungicide Thiabendazole.
Widely used in pharmaceutical, pesticides, flavors and fragrances, food additives, air fresheners, fine chemicals and other industries.
Package: 25kg/drum, can also be designed according to customer requirements.
Storage: Store in cool place. Keep container tightly closed in a dry and well-ventilated place.
We are supplier of Ethyl pyruvate CAS:617-35-6,We offer custom synthesis of various chemical compounds like Ethylpyruvate CAS:617-35-6 and custom manufacturing of Ethyl pyruvate, please feel free to contact us for your demand of Ethylpyruvate,suppose you are looking for Ethylpyruvate factory, producer or manufacturer.
We use our research in assisting customers to solve their most challenging problems and unique opportunities.In the complete production service chain with gram-kg-ton class, it can realize rapid response in the product development- pilot-amplification process and quickly transform technology into production.We have excellent management team and a group of high-quality R & D personnel and experienced technical staff.Has a first-class R & D team, rich experience in custom compound synthesis, good at synthesis of organic compounds such as chiral, heterocyclic, benzene rings.With complete organizational structure and main positioning and high-end product structure design, R&D is the driving force for enterprise development, and quality is the basis for enterprise survival.
Related Products:
Methyl 5-Formyl-2-methoxybenzoate
|
2,5-Dimethyl-1,4-dithiane-2,5-diol CAS:55704-78-4
|
dimethyl-bis[[methyl(diphenyl)silyl]oxy]silane CAS:3982-82-9