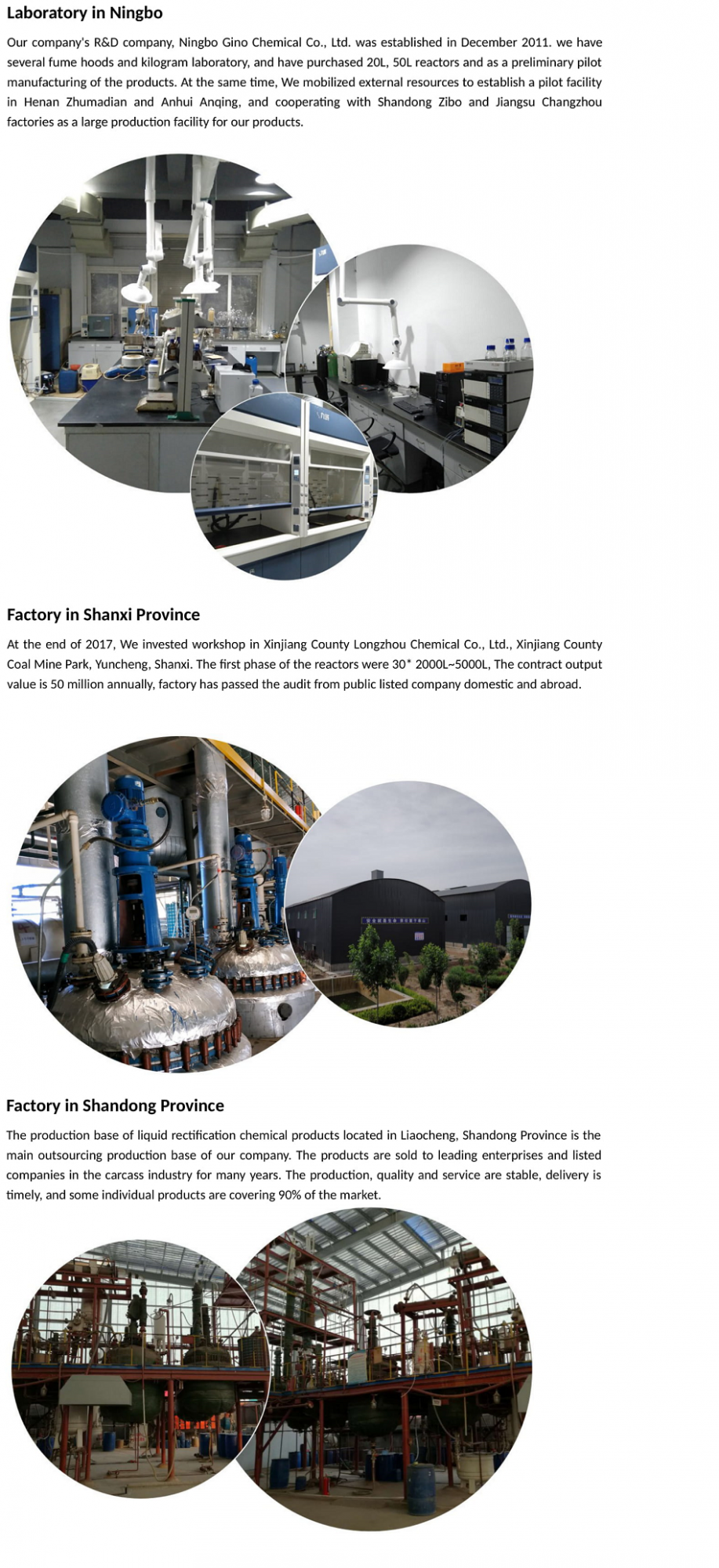 Chemical Name: 1,3-Dimethoxypropan-2-ol
CAS.NO: 623-69-8
Molecular Formula: C5H12O3
Molecular Weight: 120.14700
Synonyms:
1,3-dimethoxypropan-2-ol
2-Propanol, 1,3-dimethoxy-
Physical and Chemical Properties:
Density: 0.987 g / cm3
Boiling point: 172.6ºC at 760 mmHg
Flash point: 58.2ºC
Refractive index: 1.41
Specification:
Appearance: White powder
Purity:≥99.0%
Moisture Content: 0.25%
Impurity: 0.3%
Packing:25 kg/drum, can also be packaged according to customer requirements
Storage:The storeroom is ventilated and dry at low temperature, and it is not easy to store for a long time to prevent the generation of peroxides.
Application:
1,3-Dimethoxy-2-propanol is a possbile antiknock additive for gasoline and diesel fuel. It is also used to prepare heteroarylcarbamoylbenzene derivatives as glucokinase activators.
We are supplier of 1,3-Dimethoxypropan-2-ol CAS:623-69-8,We offer custom synthesis of various chemical compounds like 2-Propanol, 1,3-dimethoxy- CAS:623-69-8 and custom manufacturing of 1,3-dimethoxypropan-2-ol, please feel free to contact us for your demand of 1,3-dimethoxypropan-2-ol,suppose you are looking for 2-Propanol, 1,3-dimethoxy- factory, producer or manufacturer.
In addition to our core competence in the standard unit operations of organic chemical synthesis, we offer specialised reaction technology, including innovative organometallic synthesis, catalytic transfer hydrogenation and the various operations required for synthesis of chiral compounds.Synthesis of reference compounds, intermediates, drug candidates, impurities and metabolites for customers with a range of milligrams to kilograms (including GMP quality).Professional project management talents, perfect project management system; customized production tailored to help customers reduce capital and time costs.Our company can complete the pilot test and enlargement production of various types of reactions.Our manufacturing range includes products for diverse industrial applications, and features a range of alkylamines, pharmaceutical intermediates, flavour & fragrance and other personal care products, and other specialties.
Related Products:
N-Cbz-L-glutamic Acid 5-tert-Butyl Ester
|
72544-16-2
|
Triacetoxyethylsilane