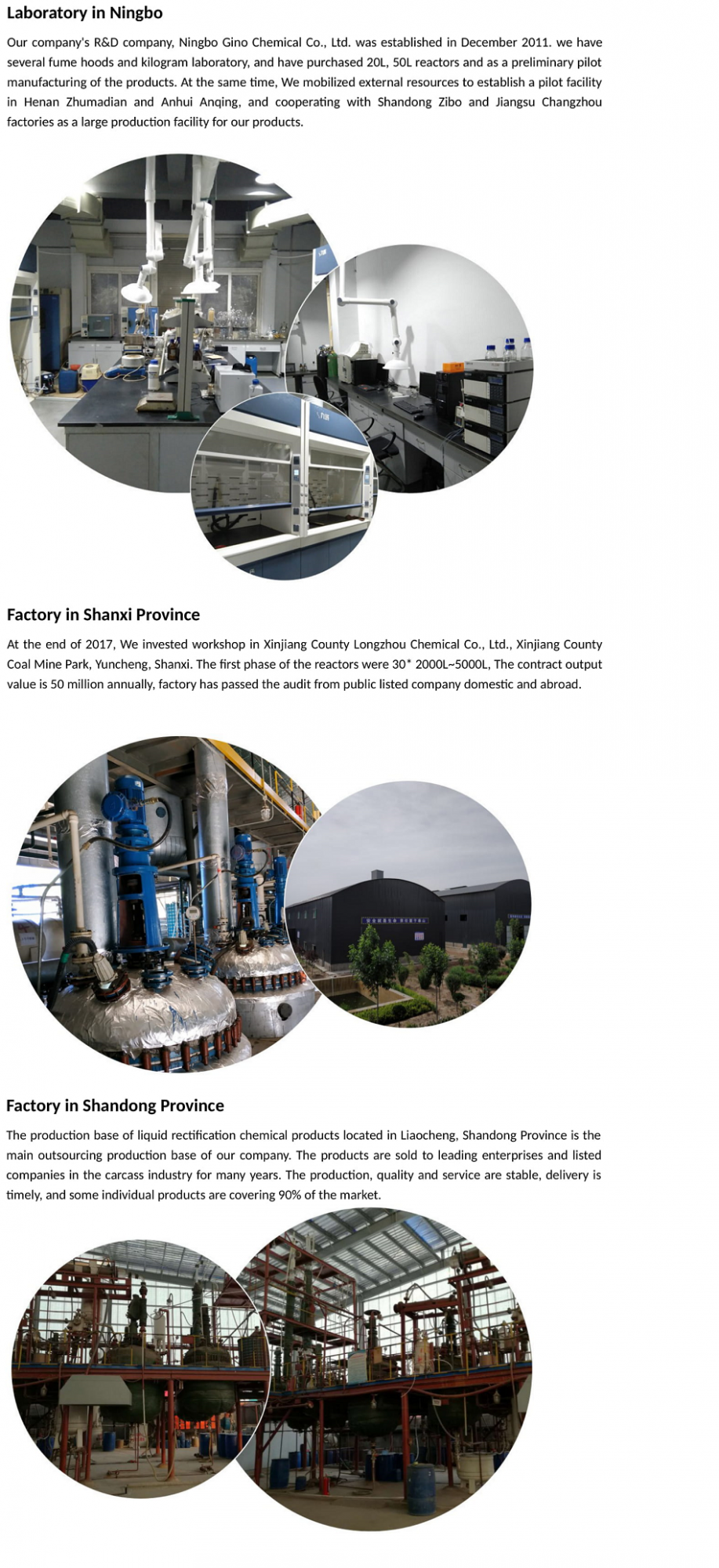 CAS No: 68-12-2
Product Name: N,N-dimethylformamide
Other Name:
N,N-dimethylformamide
N,N-dimethyl-malonamic acid ethyl ester
Density: 0.948 g/mL at 20 °C
Boiling Point: 153 °C(lit.)
Melting Point: -61 °C
Molecular Formula: C3H7NO
Molecular Weight: 73.09380
Flash Point: 136 °F
Exact Mass: 73.05280
PSA: 20.31000
LogP: 0.34030
Vapour density: 2.5 (vs air)
Index of Refraction: n20/D 1.430(lit.)
Water Solubility: soluble
Specification
Appearance: Colorless transparent liquid
Assay: ≥99.9%
Pt-Co chrominance: ≤5
Dimethylamine: ≤15ppm
Formic acid: ≤25ppm
Moisture: ≤300ppm
Fe: ≤0.05ppm
Methanel: ≤20ppm
Dimethyl acetamide: ≤500ppm
Application
Intermediates of CHLORDIMEFORM CAS: 6164-98-3.
Be used as pesticide intermediate, mainly used in the synthesis of the insecticide CHLORDIMEFORM.
Dimethylformamide is most widely used in amide solvents. It is mainly used as a solvent for spinning polyacrylonitrile fibers. As a gas absorbent in the petrochemical industry, it is used for selective absorption of acetylene and separation and purification of butadiene. Applicationd as a solvent in the production of artificial leather. Applicationd as stationary phase in gas-liquid chromatography. Applicationd in pesticides to synthesize insecticidal pupae. Applicationd in medicine to synthesize sulfadiazine, doxycycline, cortisone, vitamin B6 and so on. In addition, dimethylformamide is an aprotic polar solvent and is an excellent solvent for many organic synthesis reactions.
Package: 25kg/drum, can also be designed according to customer requirements.
Storage: Store in cool place. Keep container tightly closed in a dry and well-ventilated place.
We are supplier of N,N-dimethylformamide CAS:68-12-2,We offer custom synthesis of various chemical compounds like N,N-dimethyl-malonamic acid ethyl ester CAS:68-12-2 and custom manufacturing of N,N-dimethyl-malonamic acid ethyl ester, please feel free to contact us for your demand of N,N-dimethylformamide,suppose you are looking for N,N-dimethyl-malonamic acid ethyl ester factory, producer or manufacturer.
We are the premier choice for all your chemical needs, we offer products with the tightest specifications in the industry to make your work easier.Our company has a complete production service chain of grams-kg-ton.The company's products have been exported to Europe, America, Southeast Asia, the Middle East, South America and other places, and established a long-term cooperative relationship with customers.We are specialists in chiral chemistry using both chemocatalysis and biocatalysis technologies, but also have practical operating experience over a wide range of modern synthetic reactions.The company's production base is equipped with enamel reactors from 50L to 5000L, stainless steel ultra-low temperature reactors and conventional separation and drying equipment.
Related Products:
Clorhidrato de 4-hidroxi-3-metoxibencilamina CAS:7149-10-2
|
1-(2-Furoyl)piperazine
|
144494-72-4