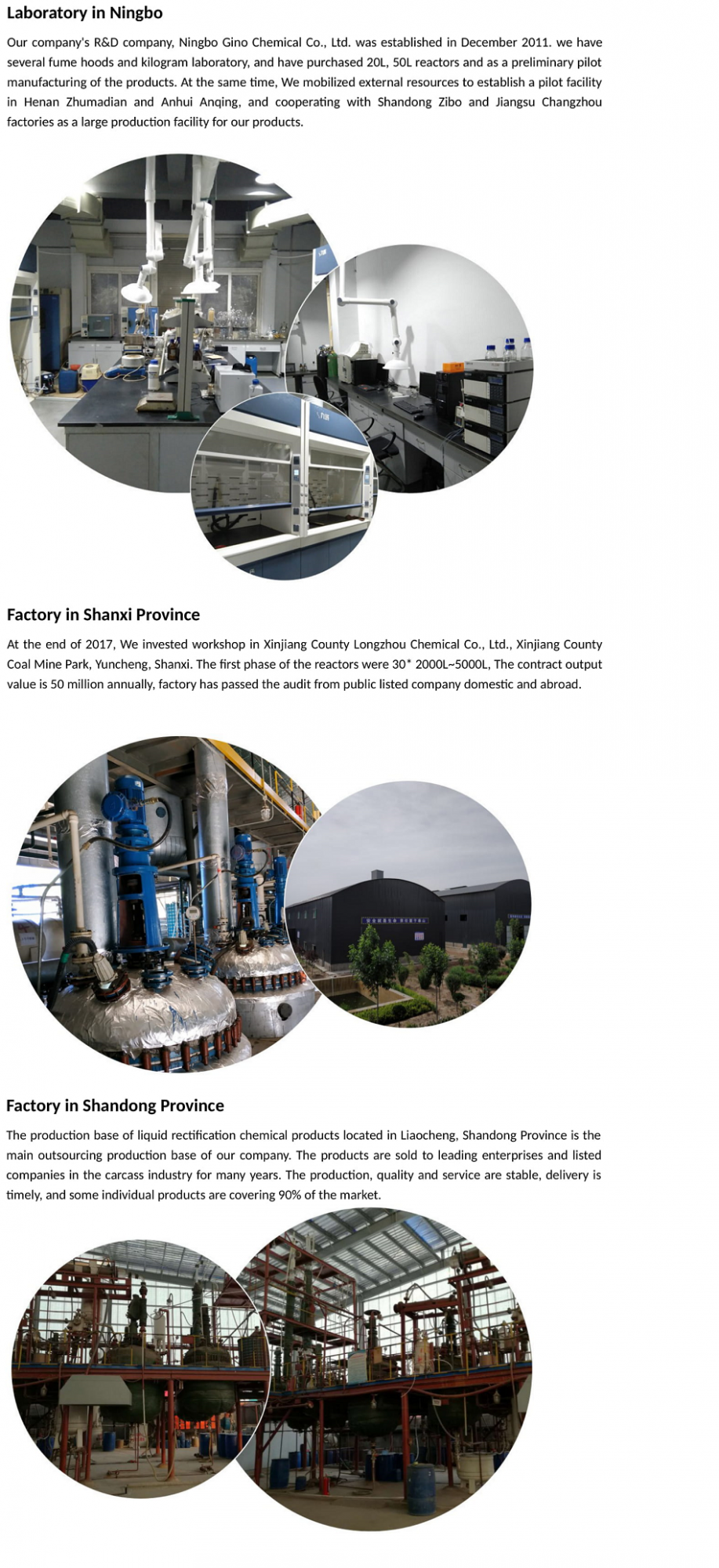 CAS No: 74222-95-0
Product Name: methyl 2-isocyanatosulfonylbenzoate
Other Name:
methyl 2-isocyanatosulfonylbenzoate
2-carbomethoxyphenylsulfonyl isocyanate
2-carbomethoxybenzenesulfonyl isocyanate
2-carboxymethylsulfonyl isocyanate
o-methoxycarbonylbenzenesulfonyl isocyanate
Methyl 2-[(oxomethylene)sulfamoyl]benzoate
2-(Isocyanatosulfonyl)benzoic acid methyl ester
Density: 1.4±0.1 g/cm3
Boiling Point: 362.0±25.0 °C at 760 mmHg
Molecular Formula: C9H7NO5S
Molecular Weight: 241.221
Flash Point: 172.7±23.2 °C
Exact Mass: 241.004486
PSA: 98.25000
LogP: 1.95
Vapour Pressure: 0.0±0.8 mmHg at 25°C
Index of Refraction: 1.570
Specification
Assay: ≥99.0%
Loss on drying: ≤0.5%
Application
Intermediates of Ethametsulfuron-Methyl CAS: 97780-06-8.
Intermediates of Sulfometuron-Methyl CAS: 74222-97-2.
Intermediates of Metsulfuron-Methyl CAS: 74223-64-6.
Be used as pesticide intermediate.
Package: 25kg/drum, can also be designed according to customer requirements.
Storage: Store in cool place. Keep container tightly closed in a dry and well-ventilated place.
We are supplier of methyl 2-isocyanatosulfonylbenzoate CAS:74222-95-0,We offer custom synthesis of various chemical compounds like 2-(Isocyanatosulfonyl)benzoic acid methyl ester CAS:74222-95-0 and custom manufacturing of 2-carbomethoxybenzenesulfonyl isocyanate, please feel free to contact us for your demand of 2-carbomethoxyphenylsulfonyl isocyanate,suppose you are looking for o-methoxycarbonylbenzenesulfonyl isocyanate factory, producer or manufacturer.
Our team is proficient in new route design and route optimization. With the skillful skills to solve problems and the high success rate of the project, we have the ability to provide our customers with the following high quality chemical custom synthesis services.Our company has a 2000 square meter R&D center. The company's production base is mainly located in Liaocheng City, Shandong Province, Yuncheng City, Shanxi Province.Multiple grades of products, including USP, NF, JP, EP, ACS, FCC, Micro, Food, Reagent, HPCL, LC/MS, Photres, Cosmetic....We not only effectively utilize the strong technical strength of our R&D department, but also establish long-term cooperative relationships with many well-known domestic enterprises and research institutions, and form a leading R&D and production team in China.Our company is a manufacturer, factory, supplier, welcome domestic and foreign customers to come to consult.
Related Products:
Isopropyl Chloroformate
|
3'-Amino-2'-hydroxyacetophenone hydrochloride CAS:90005-55-3
|
2-Chloro-3-fluoro-4-methylpyridine