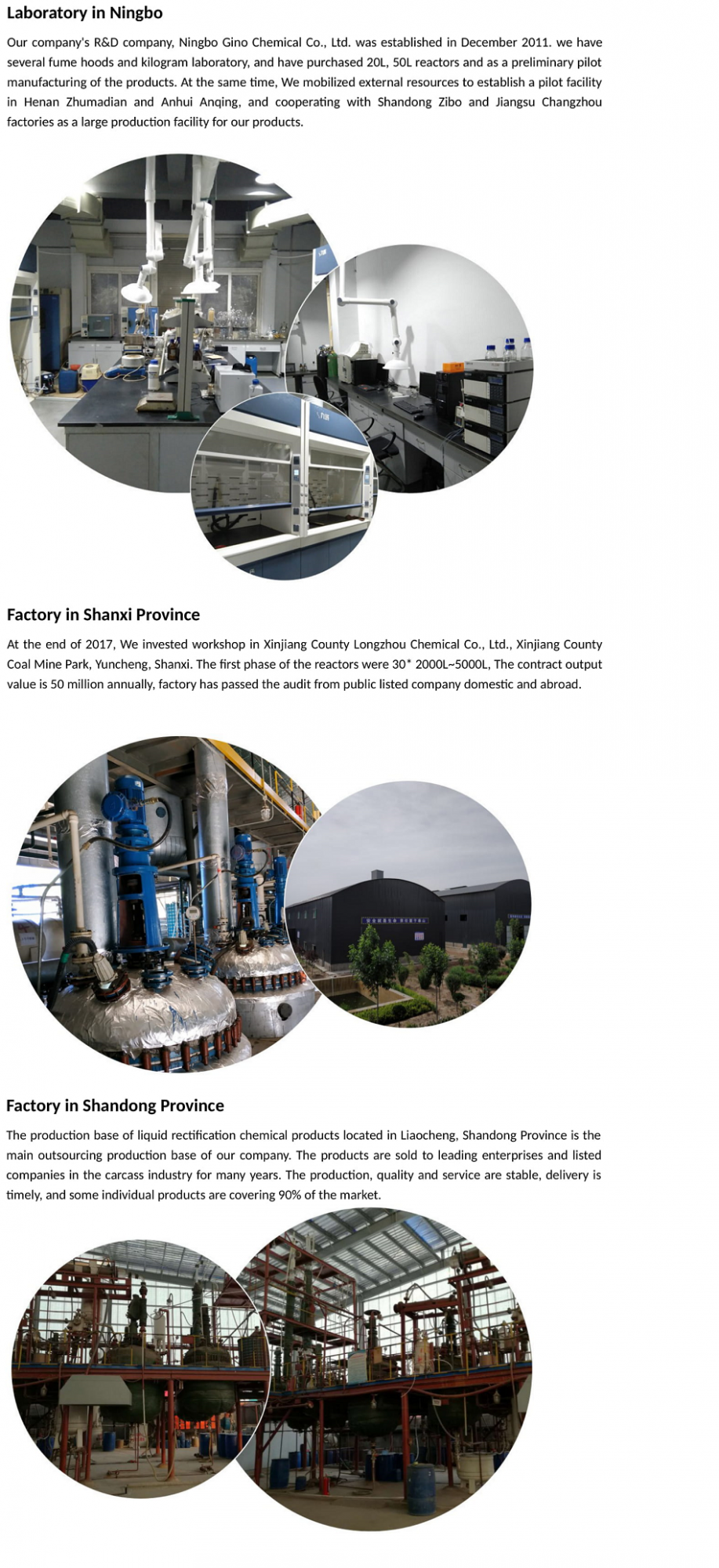 CAS No: 79-44-7
Product Name: Dimethylcarbamoyl chloride
Other Name:
Dimethylcarbamoyl chloride
N,N-dimethyl-carbamic acid chloride
Dimethylaminocarbamoyl chloride
N,N-dimethylaminocarbonyl chloride
N,N-dimethyl carbamyl chloride
Density: 1.1±0.1 g/cm3
Boiling Point: 166.8±0.0 °C at 760 mmHg
Melting Point: −33 °C(lit.)
Molecular Formula: C3H6ClNO
Molecular Weight: 107.539
Flash Point: 68.3±0.0 °C
Exact Mass: 107.013794
PSA: 20.31000
LogP: 0.24
Vapour Pressure: 1.8±0.3 mmHg at 25°C
Index of Refraction: 1.436
Water Solubility: Decomposes
Specification
Appearance: Colorless transparent liquid
Assay: ≥99.0%
Loss on drying: ≤0.5%
Application
Intermediates of AZIDITHION CAS: 78-57-9.
Intermediates of Pirimcard CAS: 23103-98-2.
Be used as pesticide intermediate, mainly used in the synthesis of insecticide.
Package: 25kg/drum, can also be designed according to customer requirements.
Storage: Store in cool place. Keep container tightly closed in a dry and well-ventilated place.
We are supplier of Dimethylcarbamoyl chloride CAS:79-44-7,We offer custom synthesis of various chemical compounds like N,N-dimethyl carbamyl chloride CAS:79-44-7 and custom manufacturing of N,N-dimethylaminocarbonyl chloride, please feel free to contact us for your demand of Dimethylcarbamoyl chloride,suppose you are looking for N,N-dimethyl-carbamic acid chloride factory, producer or manufacturer.
Our company has a complete production service chain of grams-kg-ton.The company's products have been exported to Europe, America, Southeast Asia, the Middle East, South America and other places, and established a long-term cooperative relationship with customers.Repackaging capabilities to fit customer specific requirements.We have leading technology and rich synthesis experience, and our professional R&D team is currently in the leading position in China.Our company is engaged in the production and custom synthesis of intermediates such as APIs and special chemicals. Relying on our own strong R&D capabilities, we accept custom synthesis of advanced pharmaceutical intermediates, as well as custom synthesis of other types of advanced chemicals, with mature R&D systems and production capacities from gram to tonnage.
Related Products:
Acetato de 3-cloropropilo CAS:628-09-1
|
3,3'-Dibromo-1,1'-biphenyl
|
N-(2-Chloropyrimidin-4-yl)-N,2,3-trimethyl-2H-indazol-6-amine