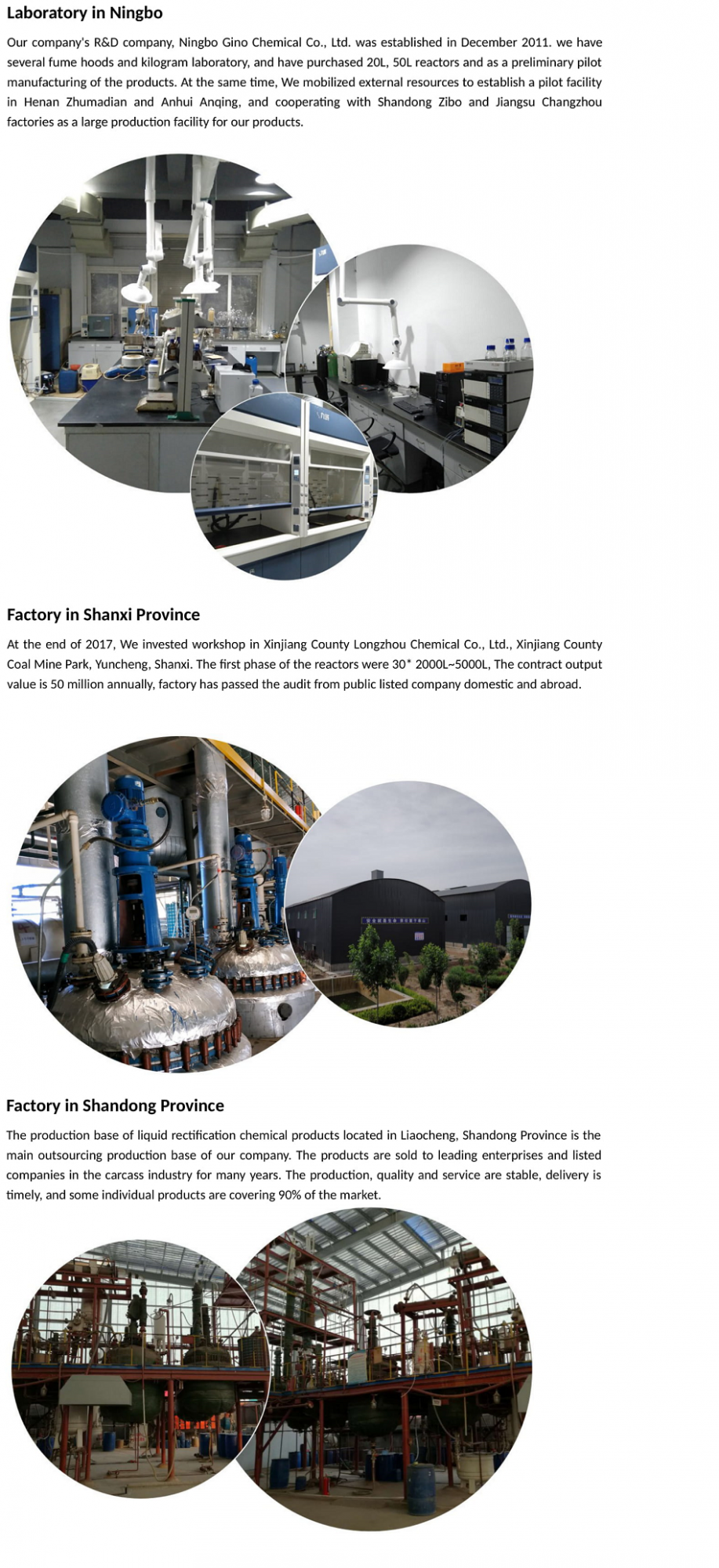 2,3-Dichloro-5,6-dicyano-1,4-benzoquinone

Product Name: 2,3-Dichloro-5,6-dicyano-1,4-benzoquinone
Synonym: 4,5-Dichloro-3,6-dioxo-1,4-cyclohexadiene-1,2-dicarbonitrile; DDQ
Cas No.: 84-58-2
Formula: C8Cl2N2O2
MW: 227
EINECS No.:201-542-2

Density: 1.7±0.1 g/cm3
Boiling point: 301.8±42.0 °C at 760 mmHg
Melting point: 210-215 °C (dec.)(lit.)
Flash point
HS Code: 2926909090
Tax refund rate: 10%
UN No.: 3439
Hazard class: 6.1 categories
Packing level: Class III
Specification
Appearance: Yellow crystaline powder
Assay: ≥99%
Loss on drying: ≤0.5%
Melting point: 214~217℃
Application
Anti-AIDS intermediate.
An oxidizing agent for the synthesis of steroids for the production of the family planning drugs clopidogrel and trialenol.
It is an excellent dehydrogenation reagent, mainly used for the dehydrogenation of steroid hormone synthesis and some advanced perfume synthesis.
It is used to efficiently synthesize 1,2-benzioxazole compounds with Ph3P.
A universal deprotection reagent for a variety of compounds such as thioacetals, acetals and ketals.
An electron transfer reagent for the synthesis of quinoline by imine and an alkyne or olefin.
Packaging
25 kg/barrel, can also be packaged according to customer requirements.
Storage
Store in a cool, ventilated warehouse.
Keep away from fire and heat.
The temperature should not exceed 37 °C.
We are supplier of 2,3-Dichloro-5,6-dicyano-1,4-benzoquinone CAS:84-58-2,We offer custom synthesis of various chemical compounds like DDQ CAS:84-58-2 and custom manufacturing of DDQ, please feel free to contact us for your demand of DDQ,suppose you are looking for 4,5-Dichloro-3,6-dioxo-1,4-cyclohexadiene-1,2-dicarbonitrile factory, produer or manufacturer.
Provide you with the most thoughtful and comprehensive service at the best price.We offer a wide range of custom synthesis and production services for pharmaceutical intermediates, reference compounds and new reagents for pharmaceutical companies, pharmaceutical biotech companies, universities and research institutions.Our unique, open innovation partnerships have led to the development of creative strategies and new technologies, giving our customers a distinct market advantage. We build business by creating the best performance chemicals through innovation and collaboration with our partners.Repackaging capabilities to fit customer specific requirements.With an international vision, rich management experience, professional R & D team and integrity and rigorous professionalism, we are committed to providing customers with the highest quality products and services.