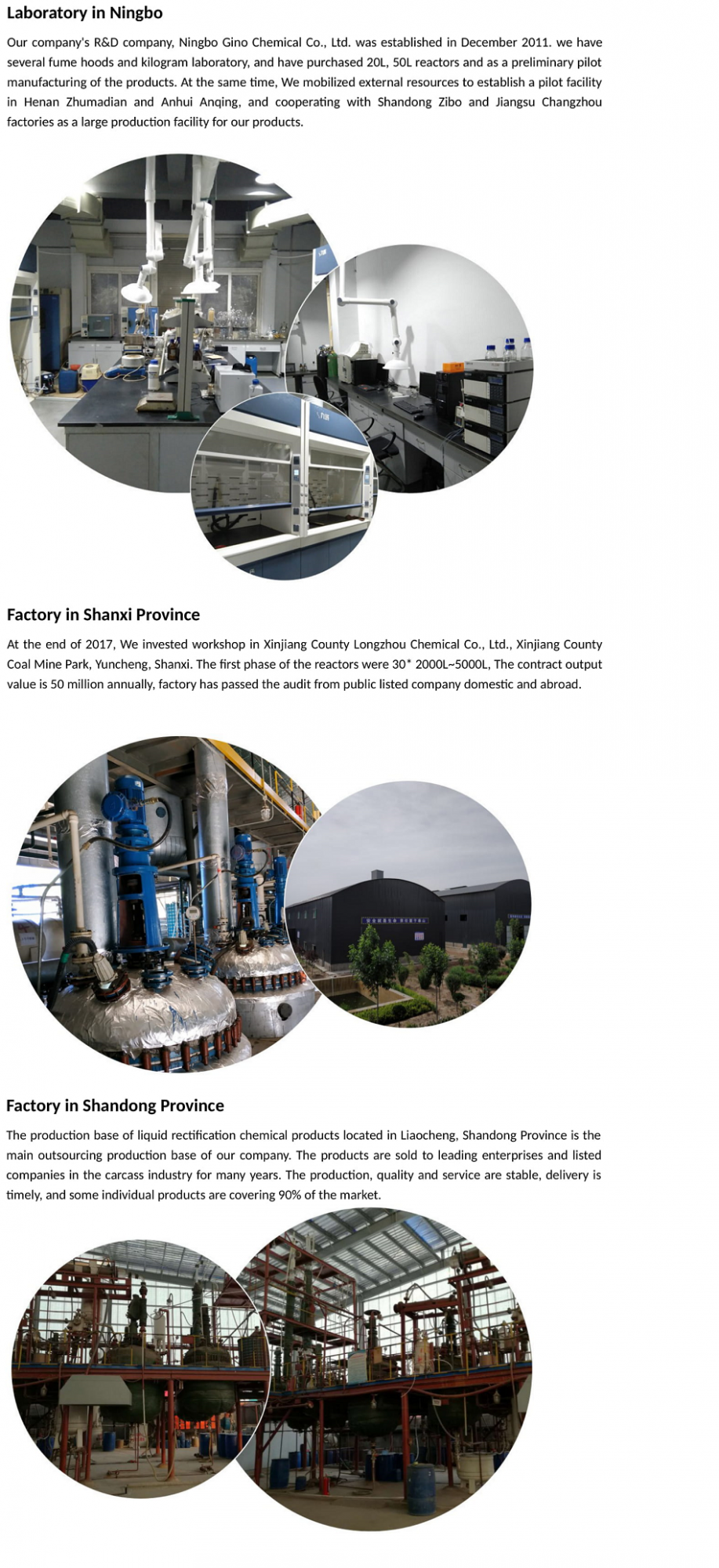 CAS No: 88-16-4
Product Name: 2-Chlorobenzotrifluoride
Other Name:
2-Chlorobenzotrifluoride
o-Trifluoromethylphenyl
2-Chloro-α,α,α-trifluorotoluene
trifluoromethylchlorobenzene
o-Chloro-α,α,α-trifluorotoluene
2-chlorotrifluoromethylbenzene
2-Chloro-1-trifluoromethylbenzene
1-Chloro-2-(trifluoromethyl)benzene
Density: 1.379
Boiling Point: 152 ºC
Melting Point: -7.4 °C
Molecular Formula: C7H4ClF3
Molecular Weight: 180.555
Flash Point: 44 ºC
Exact Mass: 179.995361
LogP: 3.53
Vapour Pressure: 3.9±0.3 mmHg at 25°C
Index of Refraction: 1.455-1.457
Stability: Stable. Flammable. Incompatible with strong oxidizing agents, strong bases.
Water Solubility: <0.1 g/100 mL at 19.5 ºC
Specification
Appearance: Colorless transparent liquid
Assay: ≥99.0%
Loss on drying: ≤0.5%
Application
Intermediates of BROMETHALIN CAS: 63333-35-7.
Be used as pesticide intermediate, mainly used in the synthesis of the rodenticide BROMETHALIN.
For the synthesis of fine organic chemical products such as pharmaceutical and pesticides. Pentafluridol intermediate.
Package: 25kg/drum, can also be designed according to customer requirements.
Storage: Store in cool place. Keep container tightly closed in a dry and well-ventilated place.
We are supplier of 2-Chlorobenzotrifluoride CAS:88-16-4,We offer custom synthesis of various chemical compounds like 1-Chloro-2-(trifluoromethyl)benzene CAS:88-16-4 and custom manufacturing of 2-Chlorobenzotrifluoride, please feel free to contact us for your demand of o-Trifluoromethylphenyl,suppose you are looking for o-Chloro-α,α,α-trifluorotoluene factory, producer or manufacturer.
We offer a wide range of custom synthesis and production services for pharmaceutical intermediates, reference compounds and new reagents for pharmaceutical companies, pharmaceutical biotech companies, universities and research institutions.Has a first-class R & D team, rich experience in custom compound synthesis, good at synthesis of organic compounds such as chiral, heterocyclic, benzene rings.Repackaging capabilities to fit customer specific requirements.We use our research in assisting customers to solve their most challenging problems and unique opportunities.Professional project management talents, perfect project management system; customized production tailored to help customers reduce capital and time costs.
Related Products:
2,7-Dibromo-9,9-difluoro-9H-fluorene CAS:1229603-71-7
|
3-fluoro-5-iodo-4-methylbenzoic acid CAS:861905-94-4
|
Phenetole CAS:103-73-1