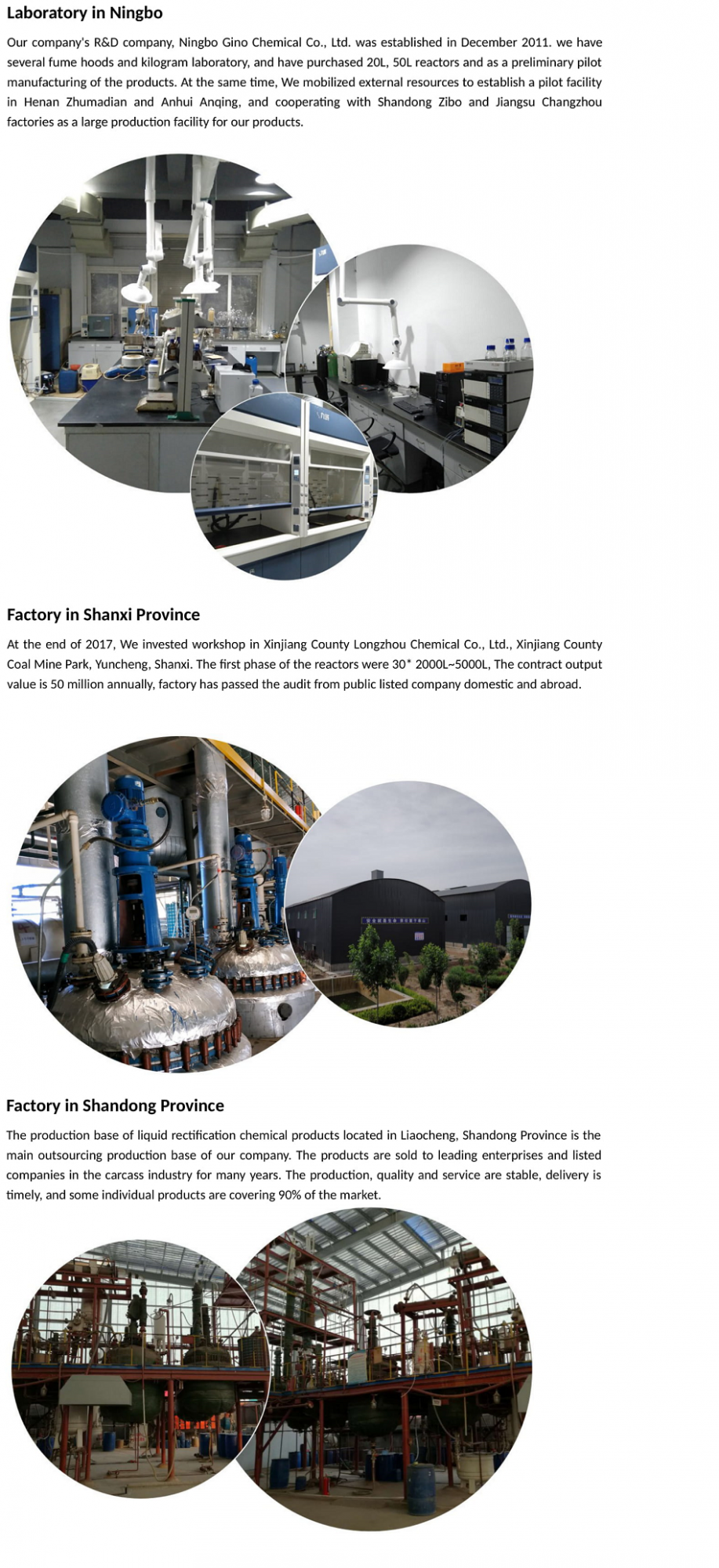 Chemical Name: 2-Diisopropylaminoethanol
CAS.NO:96-80-0
Molecular Formula:C8H19NO
Molecular Weight:145.24300
Synonyms:
N,N-DIISOPROYLETHANOAMINE
N,N-diisopropylaminoethan-2-ol
DIISOPROPYLAMINOETHANOL
Diisopropylethanolamin
DI-ISO-PROPYLAMINETHANOL
N,N-DIISOPROPYLETHANOLAMINE
Ethanol, 2-[bis(1-methylethyl)amino]-
Diisopropylethanolamine
n,n-diisopropyl
Ethanol,diisopropylamino
Physical and Chemical Properties:
Density: 0.826 g / mL at 25 ° C (lit.)
Boiling point: 187-192 ° C (lit.)
Melting point: -39.3ºC
Flash point: 158 ° F
Refractive index: n20 / D 1.442 (lit.)
Specification:
Appearance:Colorless liquid
Purity:≥99.0%
Moisture : 0.2%
Chroma(APHA):≤50#
Packing:25 kg/drum, can also be packaged according to customer requirements
Storage:Store in a tightly closed container. Store in a cool, dry, well-ventilated area away from incompatible substances.
Application:Applicationd in organic synthesis, it is the intermediate of the anticholinergic drug propylamide bromide.It can also be used as fiber additives, emulsifiers and catalysts.
We are supplier of 2-Diisopropylaminoethanol CAS:96-80-0,We offer custom synthesis of various chemical compounds like Ethanol,diisopropylamino CAS:96-80-0 and custom manufacturing of DIISOPROPYLAMINOETHANOL, please feel free to contact us for your demand of DI-ISO-PROPYLAMINETHANOL,suppose you are looking for Ethanol, 2-[bis(1-methylethyl)amino]- factory, producer or manufacturer.
We are the premier choice for all your chemical needs, we offer products with the tightest specifications in the industry to make your work easier.Since the establishment of the company, it has established good and stable cooperative relations with many domestic and foreign pharmaceutical companies.We a fine chemical company specialising in the manufacture of products for pharmaceutical and health care, flavour/fragrance, personal care, and other specialised chemical and industrial applications.Our team is proficient in new route design and route optimization. With the skillful skills to solve problems and the high success rate of the project, we have the ability to provide our customers with the following high quality chemical custom synthesis services.By following our guiding principles of Samples, Quotes, Literature, and Innovation, we are able to make continual process improvements for customers.
Related Products:
21727-90-2
|
2-chloro-3-[4-(4-chlorophenyl)cyclohexyl]naphthalene-1,4-dione
|
tert-Butyl (S)-[1-(aminooxy)propan-2-yl]carbamate