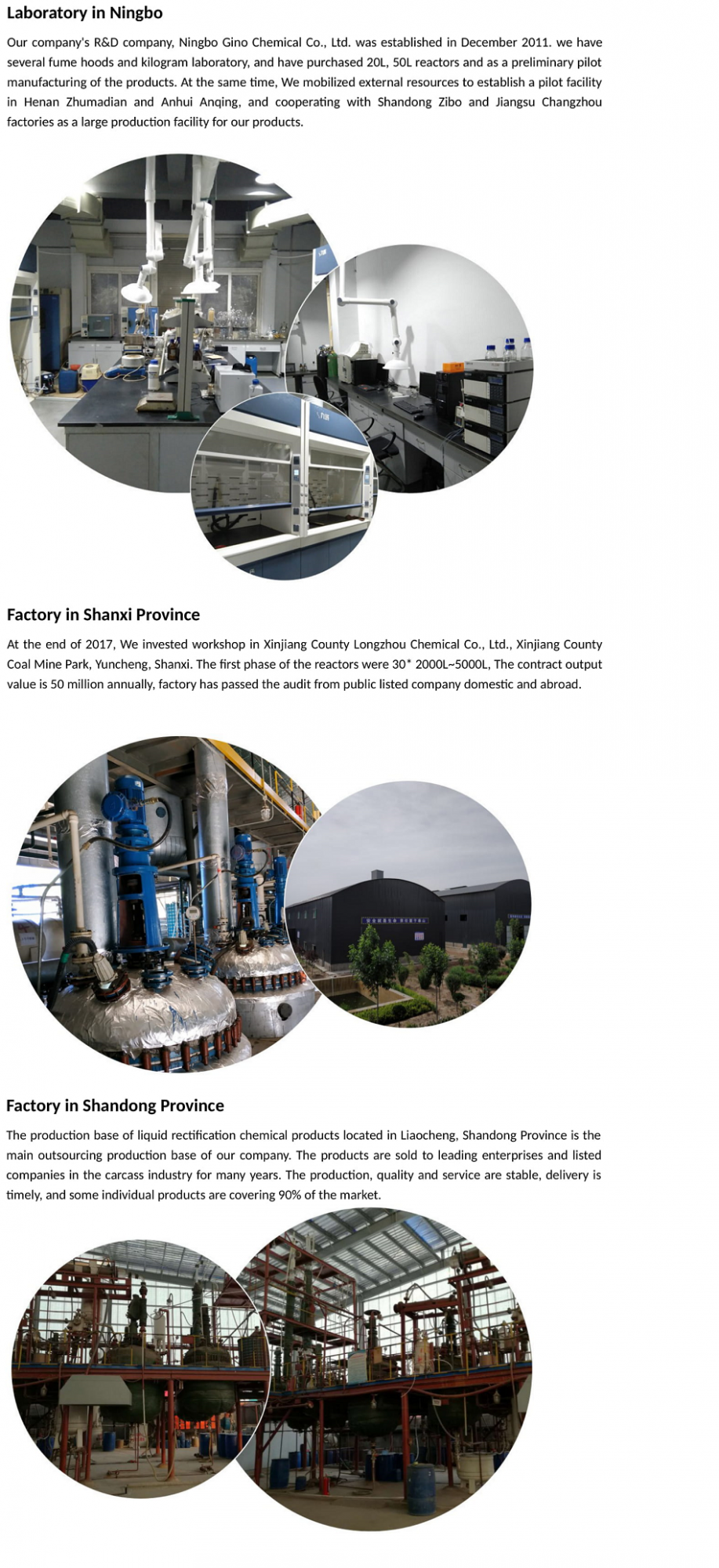 CAS No: 99-88-7
Product Name: 4-Isopropylaniline
Other Name:
4-Isopropylaniline
p-Isopropylaniline
4-propan-2-ylaniline
Density: 1.0±0.1 g/cm3
Boiling Point: 225.6±9.0 °C at 760 mmHg
Melting Point: -63 °C
Molecular Formula: C9H13N
Molecular Weight: 135.206
Flash Point: 92.2±0.0 °C
Exact Mass: 135.104797
PSA: 26.02000
LogP: 2.28
Vapour Pressure: 0.1±0.4 mmHg at 25°C
Index of Refraction: 1.543
Water Solubility: insoluble
Specification
Appearance: Colorless oily liquid
Assay: ≥99.0%
Loss on drying: ≤0.5%
Application
Intermediates of Isoproturon CAS: 34123-59-6.
Be used as pesticide intermediate, mainly used to synthesize herbicide isoproturon.
Package: 25kg/drum, can also be designed according to customer requirements.
Storage: Store in cool place. Keep container tightly closed in a dry and well-ventilated place.
We are supplier of 4-Isopropylaniline CAS:99-88-7,We offer custom synthesis of various chemical compounds like 4-propan-2-ylaniline CAS:99-88-7 and custom manufacturing of 4-propan-2-ylaniline, please feel free to contact us for your demand of p-Isopropylaniline,suppose you are looking for 4-Isopropylaniline factory, producer or manufacturer.
We have excellent management team and a group of high-quality R & D personnel and experienced technical staff.Our company can complete the pilot test and enlargement production of various types of reactions.It involves demanding processes including high pressure hydrogenation, oxygen free water environment, ultra low temperature environment and highly corrosive environmentOur company has won the trust of customers at home and abroad with competitive price, high quality products, quick response, high quality sales service, steady and honest style, and the concept of providing one-stop service for customers. and support.We have refined line design and route optimization and are committed to providing timely and efficient customization services. At the same time, we are experienced in multi-step synthesis, heterocyclic compounds, chiral compounds, sugar compounds.
Related Products:
pyrrolidone hydrotribromide
|
3- (S) - (1-Ciano-1,1-difenilmetil) -1-tosilpirrolidina CAS:133099-09-9
|
macromolécula de dimeticona CAS:9006-65-9;9016-00-6;63148-62-9